Awaiting final details, but direction of travel clear
The outcome of the European Commission's review of State Aid Guidelines for renewable energy between 2014 and 2020 will be published today [1]. The Commission has reviewed the Guidelines to move renewables support programmes towards competitive allocation mechanisms such as auctions. The REA and STA have been working with Government and fellow trade associations to ensure the Guidelines do not adversely impact on UK renewables.

REA Chief Executive Dr Nina Skorupska said:
"This is a huge leap into the unknown. Policies which pay developers a fixed price for their power have been shown to work and deliver a major increase in renewable electricity – up to 15% last year. These new Guidelines are based on economic modelling which suggests that competitive mechanisms will deliver equally good results at lower cost to the consumer. We support measures to reduce policy costs as renewables continue their journey towards price parity with fossil fuels. But putting so much faith in untested theory is a big risk, especially when the UK is in such desperate need of new capacity."
STA Head of External Affairs Leonie Greene said:
"The Commission advocates technology-neutral auctioning and clearer moves towards open competition so it makes no sense at all that they themselves have discriminated against on-site solar power by limiting Feed-in Tariffs for solar to 1MW while wind can secure 6MW. Solar power is exceptionally well suited to on-site self-supply and the UK has recently announced a vital push on large solar roof schemes serving businesses, communities and public buildings. It is highly efficient for the grid to use solar power when it is generated, at the point of use.
"This is an illogical decision by the Commission which shows unjustified technology bias, serves a big utility agenda and risks damaging one of the most cost-effective and biggest markets for solar across Europe. It could leave a total policy void for 1-5MW projects from 2017. The solar industry and on-site investors should continue to push back strongly against this very poor decision."
We intend to issue a fuller comment on the detailed decisions once they have been published.
Featured Product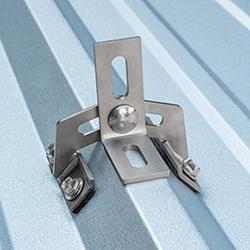 They have been changing the game for 10 years with their original Top Mount line for Asphalt Shingle roofs, and by now supplying one of the widest ranges of solar mounts in North America. From their patented products, to the custom production services they offer, QuickBOLT has been working with solar installers for nearly a decade to make solar installations easier than ever before.