Marusak brings more than 25 years of product management experience to SolarMax.
Atlanta, GA, April 9, 2014: SolarMax, a Swiss based global pure-play photovoltaic (PV) inverter company with U.S. headquarters in Atlanta, GA, and more than 20 years of PV inverter experience, announced today that Walter Marusak has joined the company's U.S. product management team.

As Product Manager, Marusak's responsibilities include defining and managing SolarMax's inverter products through their respective lifecycles, including market segmentation, business planning, product marketing, and portfolio management. To help drive innovation and market adoption, Marusak will also coordinate across internal departments and interface with partners and customers to ensure new offerings meet technical specifications, cost targets and delivery commitments.
"I'm excited to join SolarMax, an organization with a rich heritage and focus on delivering quality products to the solar market," said Walter Marusak, product manager, SolarMax. "I hope to bring my decades of expertise to bear as I lead, manage and develop an exciting portfolio of grid-connected PV inverters from concept through installment."
Marusak brings more than 25 years of product management experience to SolarMax. In addition to being North American Board of Certified Energy Practitioners (NABCEP) certified, his areas of expertise include power and renewable energy, PV systems design, PV monitoring, in-building electrical systems, and wireless systems deployment. Marusak comes to SolarMax from AEG, where he led the development and introduction of AEG's MPV commercial solar inverter. Prior to AEG, Marusak held product management positions at Alvarion, Navini Networks, Adaptive Broadband, Wireless Facilities, Nortel, and COMSAT.
About SolarMax
SolarMax, a Swiss company, is one of the world's leading manufacturers of grid-connected solar inverters. The company develops, produces and sells inverters for more than 20 years for every system – from photovoltaic plants on single-family homes whose kilowatt output is modest, to the solar power plants whose output is measured in megawatts. The inverter is a key component of the solar plant, transforming the generated direct current into grid-compliant alternating current. 20 years of experience are not only reflected in the Swiss quality, highest efficiency, reliability, and durability of the SolarMax products, but also in the way the company offers its customers excellent international support in the field of after sales, comprehensive warranty services, and intelligent solutions for system monitoring.
SolarMax is positioned internationally and currently has approx. 300 employees at the headquarters in Switzerland and at its locations worldwide.
Featured Product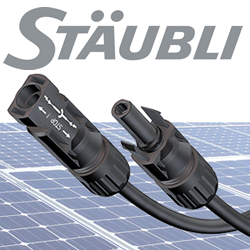 ​Stäubli Electrical Connectors are used on more than 300 GW, over 50% of the PV capacity worldwide. The MC4 family of UL and TUV listed products include connectors, in-line fuses, branch connectors, cable assembly and more.