Solar thermal now as good an investment as solar power for families and off-grid homes
After years in development, and a series of false starts, the world's first Renewable Heat Incentive for domestic properties has launched today [1]. The Domestic Renewable Heat Incentive rewards householders and social landlords that install solar water heating. Payments are made for each unit of renewable heat generated over seven years [2]. Solar thermal systems should last more than 25 years, meaning systems will continue to save energy and money long after the payback period.

Paul Barwell, Chief Executive of the STA said:
"With the launch of the Domestic Renewable Heat Incentive the final piece of support for household solar technologies slots into place. Together with the Green Deal for insulation improvements and the Feed-in Tariff for solar power, householders now have a great choice of Government-backed financial incentives to choose from to best suit their clean energy needs."
Stuart Elmes, Chair of the Solar Thermal Working Group at the STA, said:
"Solar heating is popular with householders and quick to install, integrating easily with existing heating systems. We calculate that the returns from solar water heating are similar to those from solar power when you take into account the high price inflation for gas and heating oil." [3]
Together with solar thermal, the STA and the Government are targeting over one million solar roofs in 2015. Over 200,000 solar thermal systems are already installed in the UK. Global capacity for solar thermal is over 200GW - around double global installed capacity of solar power. The technology is proven and well established across Europe and elsewhere.
The STA's evidence on the potential for cost reductions in solar thermal were a key factor in the final support levels [4]. Industry expects the Domestic RHI to trigger healthy growth in the solar hot water market. All roofs except North facing roofs are suitable for solar thermal and the technology requires a relatively modest amount of roof space. A typical system for a four bed home would cost around £4,500. The STA is keen to expand the scheme to include other solar technologies such as hybrid PV-T panels and solar space heating.
STA Chief Executive Paul Barwell said:
"Anyone thinking about putting solar power on their roof should seriously consider a solar heating system as well. Solar hot water panels take up about one square metre of roof space per person, so there are plenty of homes that can now make the most of both solar technologies."
Featured Product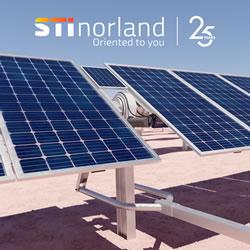 Developed in 2017, the STI-H250™ is consists of two linked torsion beams that rotate simultaneously following the sun's path. They are moved by just one motor, cutting supply and maintenance costs. STI-H250™ dual-row tracker includes backtracking mode to avoid shadowing between adjacent rows and stow function to protect the tracker in extreme wind conditions. For cleaning, vehicles can pass between trackers and each row can be placed in a different position.