Atlantis Energy Systems Inc., best known for pioneering Building Integrated PV Sunslates™ and TallSlates™ products has now added a new hybrid modular category to its roofing products line.
April 10, 2014

Sunslates™ and TallSlates™ require the considerable skill of both a roofer and a solar contractor to achieve a Class A weather tight skin for the building. Successfully aligning the roofer and electrician together requires time, energy and training and therefore greater installation costs. In an effort to lower these costs while providing the aesthetic appearance and functionality that the company is known for, Atlantis has reinvented a roof covering that combines the best features of legacy products with the utility and economy that customers desire.
The new hybrid product, dubbed TallSlates BITERS™ (Building Integrated Thermal Electric Roofing System), is hoisted pre-assembled, onto an existing roof or a new construction roof. All internal systems can be preinstalled in the home prior to the units' arrival producing dramatic labor and insurance savings for the roofing contractor. The units are then lowered into place by crane onto preset cleats attached to the roof and securely locked down. They are then plumbed to the in-house connecting lines. Once installed a roof can either be finished out to its surrounding edge with slates or left as is on an asphalt shingle roof.
Each TallSlates BITERS™ Kit is currently available in 550-Watt incremental units that cover approximately 50 square feet of roof area. The solar PV harvest is derived from the 12 (46 Watts each) TallSlates™. Multiple Kits can be combined, much like building blocks, with the increased power production sent to an inverter linked to the grid and/or stored in batteries.
The thermal component inherent in the TallSlates BITERS™ Kit provides some unique benefits. Ironically, high temperatures can significantly reduce the power output of solar cells. Solar cells will naturally produce heat while functioning and will heat up to higher temperatures like any other roofing product under a summer sun. To combat the resulting loss of power due to extreme heat Atlantis has historically offered a cooling system beneath its custom crafted Sunslates™ roofs. The resulting cooling allows the solar roofing production to increase and produces a lot of hot water, which can be redirected from the roof to other purposes such as domestic hot water supply, space heating, and/or pool heating.
The new TallSlates BITERS™ system incorporates the same principal of cooling. It is now integrated into the units at the factory and can be coupled to neighboring units until an ideal number has been met. The thermal will, depending on location, produce up to 3 to 4 times the amount of kW of thermal as the TallSlates™ do of solar PV. Product testing and field installation show 1150 Watts solar electric per 100 square feet of roof surface and up to 3300 to 4400 Watts solar thermal. The product is currently undergoing formal thermal testing in Florida.
The company is optimistic that this economical and multipurpose design will give many more homeowners the opportunity to offset both their heating and electric charges with an affordable, private and aesthetically pleasing utility service on the roof.
The company sees the TallSlates BITERS™ system as having great utility on large buildings as well, e.g. nursing homes, or other healthcare businesses that use large volumes of hot water.
Atlantis Energy Systems, Inc., a privately held Delaware corporation, is a leading manufacturer of Building Integrated Photovoltaic (BIPV) products. Atlantis offers a family of BIPV product solutions for residential homeowners, commercial real estate developers, governments and institutions. In addition to custom integrated glass and architectural spec products, Atlantis Energy Systems, Inc. uses a proprietary, state of the industry glazing technology; Atlantis laminates PV cells into glass for use in BIPV applications covering the full spectrum of commercial and residential roofs, skylights, facades, atriums, sunshades and canopies. Atlantis' two primary products – SUNSLATES® PV roofing system and custom architectural PV glazing systems – are the cornerstones of a family of BIPV products including the A 100 solar electric Skylight, The MetLife Stadium BIPV canopy and the TallSlates Grandee™ PV Roof system. AES services include design support/integration, on-site project coordination, training and warranty service.
Atlantis Energy Systems – please see website for more information http://www.atlantisenergy.com.
Featured Product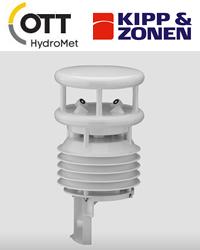 The WS50PV is an affordable, compact all-in-one weather sensor measuring the most critical parameters for commercial and industrial PV monitoring. Equipped with a suite of professional measuring sensors, the WS50PV can handle air temperature, relative humidity, barometric pressure, wind direction, and wind speed in one efficient housing to simplify mounting. Add an external temperature or rain sensor to the single-wire digital Modbus interface for fast and easy integration. The WS50PV is the tool you need for unlocking solar energy performance.