The event will be held at 1 p.m. (EST), Monday, May 5 at the Howard H. Baker Jr. Center for Public Policy, Toyota Auditorium.
KNOXVILLE, Tenn. – [April 14, 2014] – Proton Power, Inc. (PPI), the developer of a patented renewable energy system that produces inexpensive hydrogen on demand from biomass and waste sources and converts it into synthetic fuels and electricity, announced today that it will present its clean energy technology to the public for the first time at the University of Tennessee, Knoxville.

The event will be held at 1 p.m. (EST), Monday, May 5 at the Howard H. Baker Jr. Center for Public Policy, Toyota Auditorium. Proton Power co-founder, Dr. Sam C. Weaver will lead the event. The event is free and open to the public. Public parking is available at the Vol Hall Garage and information and directions can be found at http://bakercenter.utk.edu/about-us/directions-and-parking/.
The Baker Center provides a forum to discuss developments that advance alternative energy sources and improve the environment – one of its three areas of focus.
"We are grateful to the Howard H. Baker Jr. Center for giving us the opportunity to present our work," said Dr. Sam Weaver, co-founder of Proton Power, Inc. "Our primary goal in bringing this important technology to the market is to make renewable energy more affordable and to contribute our part to the world's sustainable energy future. This is another important step towards that commitment."
Founded in 2005, Proton Power's core technology, referred to as Cellulose to Hydrogen Power (CHyP), is all about hydrogen – using biomass to make inexpensive hydrogen, which is then converted to sustainable energy. It is ideal for clean energy applications such as distributed or central-station electrical power generation, hydrogen production, or producing synthetic fuels such as renewable gasoline, diesel and aviation fuel. Proton Power's energy solutions are both environmentally friendly and economically competitive with fossil fuels and provide many measurable advantages over standard energy options available today. Synthetic fuels produced by the CHyP system are derived from non-food feedstocks and can be blended or used as a drop-in replacement for petroleum fuels – within the existing transportation fuel infrastructure.
For more information on Proton Power, check out www.protonpower.com. Details about the Howard H. Baker Jr. Center for Public Policy can be found by visiting http://bakercenter.utk.edu/.
Featured Product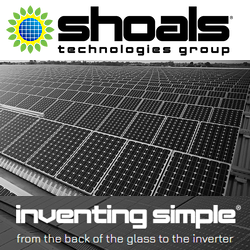 Inventing Simple® isn't just a slogan to us, it's a way of life. Using simple plug-and-play ideology, we revolutionized solar installations in 2003 with our Interconnect System™. Our harnessing system is now the gold standard EPC's use around the world. By using simple ideas, we are making solar energy a more affordable and clean power source for future generations.