Solar-Powered Lights Ideal For Sites Lacking Grid Infrastructure
PALM CITY, Fla., April 15, 2014 -- Sol Inc. has announced that it recently completed the installation of commercial solar outdoor lights along the Maria Ygnacia Creek Trail, a 3.22-mile path in Goleta, Calif. The trail is popular with pedestrians in West Santa Barbara and Goleta, as well as with recreational and semi-pro cyclists, and bicycle commuters traveling the Pacific coast route in Santa Barbara County.

The City of Goleta, home to approximately 80 high tech research and development firms, is adjacent to the University of California at Santa Barbara. The trail offers a convenient way for students and commuters to avoid busy streets, as well as the chance to experience the wildlife and birds of the native riparian habitat along the creek. The latest installation brings the total of solar lights installed to more than 300.
"The addition of reliable safety lighting through the City of Goleta's portion of the bike path will complete the project, providing lighting along the entire bike path and will dramatically enhance the safety for commuters using the facility during dark hours," according to the city's "Project Goleta" website.
The solar LED lighting was installed by the County of Santa Barbara along a 1,750-foot portion of the trail from the Hollister Avenue undercrossing north to the trail bridge crossing of Maria Ygnacia Creek.
"Tucked away from the main roads, this path is just heaven for the thousands of cyclists, walkers and joggers who travel the bike path each day," said Matt Dobberteen, Alternative Transportation Manager of the County of Santa Barbara, Department of Public Works. "Solar lights have made it possible for our residents to take full advantage of the bike path day and night in a safe environment."
With thousands of cyclists and joggers using the trail each day, the lights have added additional hours to the use of the trail.
Goleta and Santa Barbara County are just two of many communities around the country that have installed Sol solar lighting along pedestrian or bicycle paths. Palm City, Fla.-based Sol specializes in commercial solar outdoor lighting, with more than 60,000 installations in 60 countries on six continents. The Sol Inc. Greenway systems installed in Goleta feature high efficiency LED luminaires that save on operations and maintenance costs because of their long life.
"Solar lighting is ideal for outdoor trails because the payback is there from Day 1," said Dibs Tailor, CEO of Sol. "Unlike traditional commercial outdoor lighting, solar outdoor lighting eliminates the cost of trenching, wiring and other expenses associated with connecting to the grid. Plus there are no electricity bills. Also, the elimination of trenching means that natural landscapes can be preserved."
Another California City using Sol's commercial solar outdoor lighting is the City of Visalia, which recently installed nearly 30 lights along the 3,600-foot Packwood Creek Trail. The installation is the third solar lighting project that Visalia has installed in recent years.
"The Packwood Creek Trail has been a great asset for the city," said Vaughn Melcher, community development project manager for Visalia, which is located in the San Joaquin Valley approximately 190 miles north of Los Angeles. "The location adjacent to the popular Packwood Creek Shopping Center means that it is heavily used, with the addition of solar lights enhancing its utility by promoting its use in the evening hours."
In Florida, Sol recently completed the installation of commercial solar outdoor lighting along the trails at Riverland Park.
The location of the park in hurricane-prone south Florida points out another advantage of commercial solar outdoor lighting: because the lights are powered by batteries that store the energy produced from the sun, lighting continues to shine even during power outages or brownouts when traditional outdoor commercial lighting, such as sodium vapor lights, fail to perform.
About Sol Inc.
Sol Inc. is a global leader in commercial outdoor LED lighting solutions powered by solar energy and the market leader in North America. Sol Inc. has provided reliable, cost-effective, customized and esthetically pleasing solar lighting solutions for a wide range of lighting applications including roadways, parking lots, paths and trails, perimeter security, campuses, military bases, storage areas and for ad lights or monument signs. For more information, please visit www.solarlighting.com.
Featured Product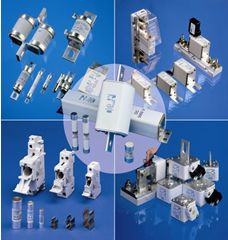 SIBA Fuses: your trusted source for all your circuit protection applications, from solar power to wind power. We are the world leaders in these applications and the most trusted name for your circuit protection needs. We have been working for over 70 years in semiconductor fuses, including ULTRA RAPID®, medium, and high voltage, standard European, miniatures, electronic fuses, and a wide range of DC rated fuses (24 VDC - 5000 VDC) for all types applications. We work with medium and high voltage fuses for protection of transformers, including submersibles, motors, medium and high voltage switchgear, compact substations, cable feeders, and high voltage capacitor circuits. New: Full line of PV UL Listed fuses and fuse holders. Contact us today for more information on our products and services.