Enables Utilities to Meet the 21st Century Challenges of Distributed Generation and Improved Grid Efficiency at a Fraction of the Cost of Alternatives Chicago, IL (IEEE PES D&T), April 15, 2014 – Tollgrade Communications, Inc., the industry leader in redefining the global standard for reliability at
Tollgrade Launches Industry's First Battery-Free Smart Grid Sensor for Monitoring Voltage Within 0.5% Accuracy

Enables Utilities to Meet the 21st Century Challenges of Distributed Generation and Improved Grid Efficiency at a Fraction of the Cost of Alternatives
Chicago, IL (IEEE PES D&T), April 15, 2014 – Tollgrade Communications, Inc., the industry leader in redefining the global standard for reliability at the world's largest electric utilities and telecommunications providers, announced today the availability of their LightHouse® Medium Voltage (MV) Power Sensor, the first all-in-one line sensor for monitoring voltage and current that requires no calibration, batteries or additional pole mounted equipment. This hot stick deployable, inductively powered voltage sensor measures voltage with a 0.5% accuracy. This new disruptive Smart Grid Sensor technology is positioned to help utilities meet 21st century grid modernization demands, while drastically reducing installation, operations, and maintenance costs.
"Tollgrade is once again first to market with a game changing technology by introducing the only inductively powered smart grid sensor with 0.5% voltage measurement accuracy. Best of all, it requires no calibration and supports operational efficiency programs such as Conservative Voltage Reduction and Volt/VAR optimization. Now, utilities will not need to compromise ease of use for accuracy," said Edward H. Kennedy, CEO, Tollgrade Communications, Inc. "As we continue to change the playing field for cost, ease of installation and accuracy, Tollgrade Smart Grid Sensors are poised for hyper charged growth."
Today's utilities need to much more actively monitor and manage their voltage levels from the substation throughout the entire distribution network. As more sources of Distributed Generation (DG) are introduced from alternative energy sources such as solar and wind, they change the profile of how power is flowing through the grid, making intermediate voltage measurements on a feeder a requirement. In addition, by monitoring voltage, utilities can increase grid efficiency. The accuracy of the LightHouse MV Power Sensor makes applications like Conservation Voltage Reduction (CVR), or Volt/VAR Optimization (VVO) a more affordable reality for all utilities.
Other voltage measurement solutions such as line post sensors take several hours to be installed and often require more than one crew. Some sensors require batteries or solar panels which add to high maintenance costs, and others have delicate optical cables that run down the utility pole to an additional box, requiring calibration, and are more likely to get damaged in installation or by environmental wear and tear. By comparison,
Tollgrade's new line sensor is a rugged solution that is a fraction of the cost and introduces additional OpEx savings because it is easier to install and requires no maintenance compared to alternatives. Once deployed by a hot stick, a simple ground wire is connected to the neutral and the installation is complete. The work is far less labor intensive and can be completed by one crew.
High accuracy voltage, current and fault impedance measurements provide valuable real-time inputs to key planning models and control applications including Supervisory Control and Data Acquisition (SCADA) systems, Distribution Management Systems (DMS), and Volt/VAR applications. This new MV Power Sensor includes all of the benefits of Tollgrade's existing MV Smart Grid sensors, such as integrated communications options, and works with Tollgrade's Sensor Management System (SMS) software with Predictive Grid® Analytics to ensure best-in-class data accuracy. Tollgrade's LightHouse MV Power Sensor offers the following benefits.
• No field calibration or sensitive cabling
• No pole mounted equipment required
• Distribution Network Protocol (DNP3) input to SCADA, Volt/VAR software, Historians and DMS
• Direct measurement of MV feeder voltage, current and power
• Inductively powered (no batteries)
• Hot stick installation
• Integrated wireless communications options and GPS
• Real-time fault detection and location
• Interval data logging
• Waveform capture
• Configurable thresholds, alarms and alerts
Today, LightHouse is used by some of the world's largest Investor Owned Utilities (IOUs), Distribution System Operators (DSOs), municipalities and co-ops on three continents. The platform allows utilities to reduce outage minutes, improve reliability metrics, balance loads, protect assets like substation transformers and reduce the operating expense of running a distribution network. In 2013, Tollgrade was recognized as the North American Smart Grid Sensor Market Share Leader by IHS Research.
Demonstrations at IEEE PES Transmission & Distribution Conference & Exposition 2014 in Chicago
Tollgrade will demonstrate the MV Power Sensor in booth #2418 and the company invites attendees and press to stop by for a demonstration.
Pricing and Availability
LightHouse MV Power Sensors will be available in Q3 of 2014. For more information, please contact getlighthouse@tollgrade.com
About Tollgrade
With more than 200 million lines under test, millions of utility outage minutes avoided annually and 25 years of experience successfully locating faults at the world's largest electric utility companies and telecommunication service providers, Tollgrade is redefining the global standard for reliability. Our award-winning fault detection hardware and predictive analytics software is deployed on four continents to help operators avoid network outages and reduce customer downtime. Tollgrade has been recognized as one of the Top 13 Smart Grid Companies to Watch in 2013 by SmartGrid News, received the Fierce Energy award for "Substation Automation and Distribution Automation" and a Best Practice Award from Frost + Sullivan. In 2013, the company was named the Smart Grid Sensor market share leader by IHS Research, and a Platt's Global Energy Awards finalist. Learn more by visiting www.tollgrade.com.
For more information, contact:
Cathy Clarke
CNC Associates
+1 617-527-2089 (mobile)
cathy@cncassocs.com
Anne-Laure Leroyer
Marketing Communication Manager
Tollgrade Communications, Inc.
+1 202-701-0083 (mobile)
ALeroyer@tollgrade.com
Featured Product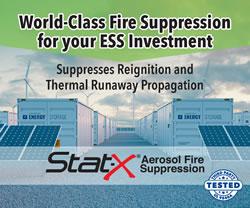 Stat-X® Condensed Aerosol Fire Suppression is a solution for energy storage systems (ESS) and battery energy storage systems (BESS) applications. This includes in-building, containerized, and in-cabinet applications. The Stat-X product was tested for efficacy in putting out Li-ion battery fires. It was found that the Stat-X agent successfully extinguished single and double cell battery fires. This testing was conducted in parallel with a large battery fire testing program. DNV GL Energy conducted the testing and validated effectiveness of the Stat-X aerosol agent on cell level Li-ion battery fires.