Baker Electric Solar held a complimentary solar open house on Saturday, April 12, 2014 in San Marcos, California. Guests learned about solar renewable energy production while touring a live 5.2 kW residential solar system.
Baker Electric Solar, a Southern California solar company specializing in residential and commercial solar installations, held its third complimentary residential solar open house of the year on Saturday, April 12, 2014. The San Elijo Hills community homeowners opened their home to guests so that they could view its solar system. Guests learned firsthand about solar energy production and the homeowner's savings while touring the live 5.2 kW residential solar system.

The Baker Electric Solar rooftop-mounted San Marcos 5.2 kW solar system consists of 16 SunPower 327 watt solar panels and one 5000w inverter -- with a PV surface area of approximately 240 square feet. Factoring in utility rate increases and locked-in low energy rate savings, the San Marcos homeowners are projected to save more than $30,000 over 20 years. The solar system not only creates immediate and long-term savings, but also provides a locked-in rate for electricity that their system will produce, making utility costs lower and predictable. The system will reduce CO2 emissions by 4.4 tons annually which is the equivalent to not driving over 10,000 miles.
San Elijo Hills is a master-planned community in San Marcos, California. Homeowners are community conscious and actively engage in ecological activities. With an average of 267 sunny days, it is an ideal location for residential solar installations. Solar panels provide clean, efficient power. During the open house, the homeowner turned on all of the electric in the home – including the swimming pool pump. As a musician, the sound system equipment in the owner's "man cave" demanded even more power. Guests literally witnessed the electric meter spinning backwards as solar production exceeded the home's energy consumption during daylight hours.
Guests viewed the homeowner's before and after electric bills. They were encouraged to bring their electric bills so that a Baker Electric Solar energy consultant could estimate the monthly savings a solar system would provide them. As an added bonus for attending the event, guests were entered into Baker's June 15 drawing for an iPad mini. iPad devices are ideal for monitoring a homeowner's solar system using a free app that connects to the system's production monitoring.
"This San Elijo Hills family chose to take a proactive step and start generating their own electricity. They experienced immediate solar savings with a zero down, low monthly payment solar lease," said Baker Electric Solar Residential Sales Manager, Andrew Berlin. "Plus, they were able to lock-in a low rate for electricity for 20 years."
As a Baker Electric Inc. family company, Baker Electric Solar, has the 75-year history, backing and diversification of an experienced electrical contractor founded in 1938. Offering sun-powered options since 2003, the companies have helped more than 1800 San Diego County residents use the sun to save on their electric bills.
For more information about going solar with Baker Electric Solar go to: http://www.bakerelectricsolar.com. To RSVP for the next open house on May 3, 2014 in Escondido, call Baker Electric Solar at (877) 543-8765.
About Baker Electric Solar
Escondido-based Baker Electric Solar, designs, builds and installs photovoltaic solar power systems for new and existing homes and commercial facilities across Southern California. Baker Electric Solar offers multiple financing options including: HERO financing, zero interest financing to purchase and a zero-down, fixed monthly payment lease. Baker Electric Solar is a BBB accredited business with an A+ rating. The Escondido solar company was named one of North County's largest organizations by the San Diego Business Journal. It also earned the 2013 Angie's List Super Service Award and was named one of Solar Power World's 2013 Top 250 Solar Contractors in the nation. Baker Electric Solar is San Diego's first SunPower Elite Dealer. For more information, visit http://www.bakerelectricsolar.com.
Featured Product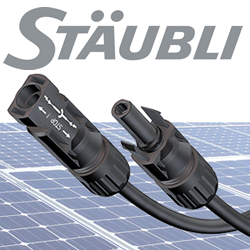 ​Stäubli Electrical Connectors are used on more than 300 GW, over 50% of the PV capacity worldwide. The MC4 family of UL and TUV listed products include connectors, in-line fuses, branch connectors, cable assembly and more.