On Friday, April 25th, 2014 Goodwill Central Texas and Meridian Solar will host a ribbon cutting ceremony at the Goodwill Community Center in Austin, Texas to celebrate the development and installation of two solar-electric systems totaling 520 kW of solar energy.
Austin, Texas April 21, 2014

Goodwill Central Texas and Meridian Solar have partnered to develop and install 520 kW of solar electricity made up of 2,132 solar panels. The total capacity is comprised of two systems: 260 kW at the Goodwill Resource Center and 260 kW at the Goodwill Community Center.
With the development of the new solar electric systems, Goodwill will recognize the immediate and long-term benefits of renewable energy. "Goodwill will save money on electricity for several decades to come, and the Austin community will also stand to benefit from the clean solar energy produced by Goodwill's systems," commented Mark Begert, Executive Vice President and Director of Meridian Solar. The two systems will yield significant environmental benefits, preventing 920,000 pounds of carbon dioxide from being emitted into the atmosphere annually, equivalent to planting 800 acres of trees each year the systems are in operation.
"Choosing to go solar was an easy decision for Goodwill, as it aligns with Goodwill's commitment to sustainable practices," noted Allen Whitley, Senior Director of Environmental Business Services for Goodwill. "We diverted nearly 28 million pounds of material from landfills in 2013, contributing to the creation of jobs and generating revenue for our mission. Goodwill Central Texas also supports multiple recycling events in the community, so going solar was the natural next step in our goal to be innovators in environmentalism."
"Partnering with Goodwill to develop 520 kW of solar energy in Austin was an exciting and rewarding experience for Meridian Solar," noted Andrew McCalla, Meridian's Founder and President. "We have tremendous respect for Goodwill's mission, and it has been inspiring to work with their team whose clarity of purpose and focus made for a relatively smooth process."
This Friday, April 25th at 11am, Goodwill and Meridian Solar will host a ribbon cutting ceremony at the Goodwill Community Center located at 1015 Norwood Boulevard in Austin, Texas to celebrate the completion of the two installations. The ceremony is open to the public.
About Goodwill Central Texas: Goodwill Central Texas is a non-profit 501(c)3 organization dedicated to the mission of generating lifelong connections to work. Revenue generated through the sale of donated goods is used to fund job training and employment programs for Central Texans. For more information about Goodwill Central Texas, go to goodwillcentraltexas.org.
About Meridian Solar: Meridian Solar specialized in the development, engineering, construction, and financing of high-quality solar electric generation projects. Beginning in 1999, Meridian Solar has grown to design and build more than 600 installations with an installed capacity of over 40 MW across 15 states. For more information about Meridian Solar, go to meridiansolar.com.
Featured Product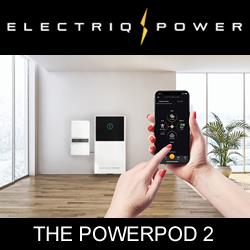 The Electriq PowerPod 2 is a fully-integrated home energy storage, management, and monitoring system powered by LFP batteries. The high-performance, cobalt-free product includes a hybrid solar/battery inverter controlled by intelligent software. The PowerPod 2 provides backup power and can self-consume or export excess power back to the grid.