Chandler company's Gorilla-Snot® dust control product used to help improve working conditions at Arlington Valley Solar Energy II facility in Arizona.
Chandler, Arizona April 23, 2014

Soilworks, the leading provider of dust control solutions around the world, recently helped contractors complete one of the state's largest solar panel installations with the help of the company's Gorilla-Snot® dust control product.
Arlington Valley Solar Energy II, one of Arizona's largest solar energy projects, was completed by global engineering company Fluor and Arlington Valley Solar Energy II, LLC in November 2013.
Soilworks products were used to help control fugitive dust at the site, according to Soilworks founder Chad Falkenberg.
"The project is just the latest example of our work with construction, military and mining contractors around the world who are looking to increase productivity and safety while reducing the costly damage dust can produce," he said.
Fluor designed, engineered and constructed the plant for its owner, Arlington Valley Solar Energy II, LLC. Soilworks, an Arizona dust control and soil stabilization company, was onsite during construction to increase visibility and working conditions with Gorilla-Snot, one of the company's state-of-the-art dust control solutions.
The 127 megawatt rated plant, built across 1,160 acres of land west of Phoenix in Maricopa County, is covered in six million feet of cable and more than 600,000 solar panels.
San Diego Gas & Electric purchased the electricity produced from the plant under a long term Power Purchase Agreement, according to Array Technologies.
About Soilworks®
Soilworks® provides engineered solutions to meet the broad needs of the dust control and soil stabilization industry. Whether the market is commercial, industrial or military, Soilworks has the innovative tools, unmatched technical support, and environmentally friendly technologies to fulfill specific requirements. Soilworks' performance-driven portfolio of industry-leading products include the Patented U.S. Dept. of Defense Surtac®, Soiltac®, Powdered Soiltac®, Gorilla-Snot® and Durasoil®. Soilworks' international sales network, global distribution centers and integrated customer service provide an ideal platform to satisfy all its customers' needs. Get to know Soilworks better at http://www.soilworks.com or call 1-800-545-5420.
Featured Product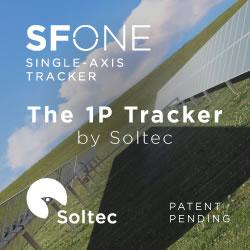 Under the slogan "engineered for greatness", the SF8 tracker aims to revolutionize the photovoltaic market with its new minimum 2x60 configuration and 4 to 6-strings. This tracker is elegantly designed while it reinforces its structure to perform in any terrain. In addition, the SF8 tracker increases the rigidity of its structure by 22% more than the previous generation of Soltec trackers, the SF7. The SF8 is specially designed for larger 72 and 78 cell modules, an increasing market trend.