Commercial solar outdoor lighting company and San Francisco suburb Discovery Bay win Technology Award
San Francisco, Calif.– Sol Inc., a global commercial solar outdoor LED lighting solutions company and the market leader in North America, announced today that its solar lighting project with the Town of Discovery Bay has been awarded the Technology Award in Breathe California's 2014 Clean Air Awards.

The award recognizes Sol and Discovery Bay for their leadership in pioneering the expansion of solar outdoor lighting technology in northern California, and for setting an example for other municipalities looking to reduce greenhouse gas emissions. Discovery Bay is located in eastern Contra Costa County, about 60 miles from San Francisco.
Sol Inc. and Discovery Bay, home to more than 13,000 residents, won the award for their work in designing and deploying solar outdoor lighting as an innovative, environmentally friendly and economical solution for parks. The town chose solar because it was half the price of traditional grid-tied lighting, and because the lights produce no greenhouse gas emissions.
Commercial solar outdoor lighting also provides significant upfront savings in installation costs because the systems eliminate wiring and trenching expenses, as well as other costs associated with tying into the grid. With solar lighting there is also never an electricity bill, meaning that communities are freed of electricity bills for the life of the system, often 20-25 years on average.
"We are thrilled to be partnering with local governments such as the Town of Discovery Bay on environmentally friendly solar outdoor lighting," said Dibs Tailor, CEO of Sol Inc. "In addition to enjoying the many benefits of solar lighting, the Town of Discovery Bay sets an excellent example for other municipalities that are looking to improve their bottom lines and cement their legacies as responsible global citizens."
In recent years, advances in LED, solar panel and battery technologies have combined to make Sol's lighting systems more effective than the alternatives. The solar LED lights provide the highest-quality light available, offering long life, durability, high efficiency, low light pollution and better visibility. Sol's lights can operate for more than five days without a single ray of light, and continue to shine during brownouts and power outages when traditional grid-tied lighting fails.
Sol most recently installed solar lights for a Discovery Bay project at Cornell Park, which saved the town more than $80,000 in installation costs alone, and will mean no electricity bills during the 25+-year lifespan of the systems. Operations and maintenance costs will also be reduced as the LED luminaires provide up to 70,000 hours – or approximately eight years – of light, which translates to greatly reduced labor costs for bulb replacements.
"We have found Sol wonderful to work with and have been wholly satisfied with the implementation of their lighting technologies," said Mark Simon, president of the board of Discovery Bay. "Our citizens have benefited greatly from the park lighting, as well as from the savings on installation and electricity costs. This award recognizes the accomplishments of a great partnership in the service of the greater goal of reducing greenhouse gas emissions."
Sol Inc. has a long history of working with municipalities, governments and colleges to provide custom, sustainable lighting solutions. In California alone, Sol has brought sustainable solar lighting to the Los Angeles County Arboretum, Santa Monica College, military bases, parks and miles of trails. Sol is a market leader in the commercial outdoor lighting space, having installed more than 60,000 systems on six continents. The largest commercial solar outdoor lighting company in North America, Sol has systems in use at more than 200 federal sites, and is the preferred solar lighting supplier for the Department of Defense.
"We are very happy to honor Sol Inc. and the town of Discovery Bay with this year's Technology Award," said Linda Civitello, CEO and President of Breathe California Golden Gate Public Health Partnership. "These two demonstrate that green technology can be utilized to make outdoor lighting improvements more affordable. Their commitment to environmentally friendly lighting technology is a contribution to air quality and public health."
About Sol Inc.
Sol Inc. is a global leader in commercial outdoor LED lighting solutions powered by solar energy and the market leader in North America. Over the past two decades, the company has installed more than 60,000 systems in more than 60 countries on six continents. Sol Inc. has provided reliable, cost-effective, customized and esthetically pleasing solar lighting solutions for a wide range of lighting applications including roadways, parking lots, paths and trails, perimeter security, campuses, military bases, storage areas and for ad lights and monument signs. Sol's lighting solutions are less expensive than grid-tied lighting for many applications because they eliminate the cost of wiring, trenching and other electrical and utility costs. In many cases, payback can be achieved immediately. For more information, please visit www.solarlighting.com.
Featured Product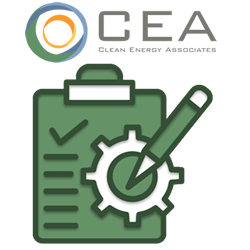 Clean Energy Associates provides a complete quality assurance solution that covers the entire product lifecycle of PV modules, storage systems, and every Balance of Sy stem (BOS) component. CEA's experienced on-the-ground and international team of quality control engineers and account managers offer an unparalleled quality assurance presence that can protect solar and storage investments and ensure future energy-producing viability for the life of the product.