Amid largest construction boom ever, momentum builds to annual meeting
Las Vegas — In less than two weeks the entire U.S. wind industry will convene in Las Vegas, May 5-8, WINDPOWER Conference & Exhibition 2014. Nearly 10,000 attendees and over 400 exhibitors are expected to flock to the North America's premier wind energy conference to discuss the future of the U.S. industry, amid the largest construction boom ever.

The biggest news of the is expected to be conference is the construction boom taking place across the country, and DOE's Wind Vision, an updated roadmap of how to get 20 percent of the U.S. electric capacity from wind power by 2030. Over the last few years the leading choice for new capacity in the majority of the country has been wind energy, and the U.S. wind energy sector has invested an average of $15 billion annually in new projects over the past 5 years. But what's next for the wind power in America and how do we get there?
Below are program highlights and must-attend events for the upcoming conference:
Tuesday May 6 (local time)
8:30 – 10:00 am Conference opener with Assistant Secretary Dr. David Danielson, Energy Efficiency and Renewable Energy, U.S. Department of Energy followed by;
State of the industry with Tom Kiernan, Chief Executive Officer for AWEA
1:30 pm – 2:30 pm DOE Wind Vision preview and panel discussion with energy leaders
Presentation by Jose Zayas, Director of Wind and Water Power Technologies, previewing the forthcoming DOE Wind Vision report detailing a long-term vision for wind power. The report convened a broad team of industry, academic, NGO, and government experts to assemble a vision that thoroughly analyzes the costs and benefits of achieving 20 percent of the U.S.'s energy capacity from wind power by 2030, and beyond.
Wednesday May 7
8:30 – 10:00 am Keynote speech by Seth Goldman of Honest Tea, followed by remarks by incoming AWEA Board Chair Susan Reilly, President and CEO of RES Americas, opening a panel discussion with world-wide wind energy leaders.
Thursday May 8
10:30 – 12:30 pm Leadership Power Hour, high-ranking executives will be present in their booths on the exhibition floor.
New to this year's program, companies will be hosting in-booth demonstrations and presentations. See the full schedule here.
The Wind Energy Foundation and Department of Energy are co-locating the Collegiate Wind Competition at WINDPOWER. 10 student teams representing colleges and universities from around the country will compete in three competitions from May 5 -7.
Accredited members of the press are encouraged to attend WINDPOWER Conference and Exhibition 2014 and can apply for a press pass by contacting Lindsay North at lnorth@awea.org. For the latest news on the industry be sure to review the AWEA U.S. Wind Industry Annual Market Report Year Ending 2013, providing a comprehensive look at the entire U.S. wind energy landscape, offering industry trends, statistics, company rankings and the market picture through 2013.
AWEA is the national trade association of the U.S. wind energy industry, with 1,300 member companies, including global leaders in wind power and energy development, wind turbine manufacturing, component and service suppliers, and the world's largest wind power trade show, the AWEA WINDPOWER Conference & Exhibition, which takes place next in Las Vegas, NV, May 5-8, 2014. AWEA is the voice of wind energy in the U.S., promoting renewable energy to power a cleaner, stronger America. Look up information on wind energy at the AWEA website. Find insight on industry issues at AWEA's blog Into the Wind. Join AWEA on Facebook. Follow AWEA on Twitter.
Featured Product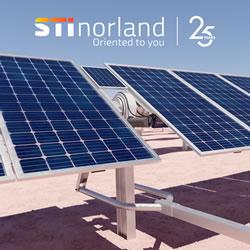 Developed in 2017, the STI-H250™ is consists of two linked torsion beams that rotate simultaneously following the sun's path. They are moved by just one motor, cutting supply and maintenance costs. STI-H250™ dual-row tracker includes backtracking mode to avoid shadowing between adjacent rows and stow function to protect the tracker in extreme wind conditions. For cleaning, vehicles can pass between trackers and each row can be placed in a different position.