Former CEO, Dave Roberts, will continue to support the Company through the transition
INDIANAPOLIS – (April 24, 2014) – EnerDel Inc., a leading supplier of advanced lithium-ion batteries and energy storage systems, has announced that Michael Canada has assumed the role of interim CEO. Mr. Canada will take over the responsibilities immediately. Former CEO, David Roberts, will continue to support the company through a transitional period.

"I am excited to take on the challenge of leading EnerDel forward into a period of substantial growth across the core strategic segments of heavy duty transportation, as well as grid and off-grid stationary applications. The company is at the right spot strategically to capitalize on the growing understanding of how lithium-ion energy storage can facilitate our broader goals of energy security and independence, as well as the sustainable impact of integrating renewables on our grid. Our focus will be on delivering beyond our current customers' expectations and cultivating new customers based on our historic success," said Mr. Canada.
Mr. Canada is an industry veteran, having most recently held the role of COO for EnerDel. Prior to that, he served in the role of VP and General Manager of Altairnano with responsibility for global operations. Mr. Canada also held roles of increasing responsibility with global companies such as DaimlerChrysler, Goodrich Aerospace, Harman/Becker Automotive Systems, and Praxair.
Mr. Roberts stated "It has been my honor to lead EnerDel over the past two years as the company stabilized and built a sustainable business model in the fickle space of lithium-ion batteries. I believe that EnerDel is now positioned for an exciting growth stage as the market recognizes the value of implementing energy storage strategies today. There is still work to be done in the industry, and I think that Mike will do a great job solidifying EnerDel's spot as a market leader."
About EnerDel
EnerDel, Inc. is a privately-held company headquartered in Indianapolis. It manufactures advanced, lithium-ion batteries and energy storage systems for electric grid, transportation and industrial applications. The company's prismatic cell design and modular stacking architecture combine to provide customers with production-ready solutions that address their power and energy storage needs. For additional information, visit www.EnerDel.com.
Featured Product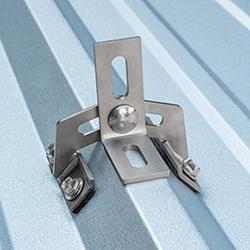 They have been changing the game for 10 years with their original Top Mount line for Asphalt Shingle roofs, and by now supplying one of the widest ranges of solar mounts in North America. From their patented products, to the custom production services they offer, QuickBOLT has been working with solar installers for nearly a decade to make solar installations easier than ever before.