Strong project M&A activity, 12 GW in new projects announced globally
Mercom Capital Group, llc, a global clean energy communications and consulting firm, released its report on funding and merger and acquisition (M&A) activity for the wind sector during the first quarter of 2014.

Wind venture capital (VC) funding fell to $32 million compared to $93 million in Q4 2013. Total funding in the wind sector came in at $10.5 billion in Q1 2014, including VC funding, public market financing, debt financing, and announced project funding deals.
The largest VC deal in the wind sector in the first quarter was by 3sun Group, a company that installs and maintains offshore wind turbines, which raised $16.7 million from Business Growth Fund.
Announced large-scale project funding in Q1 2014 totaled $7.2 billion in 29 deals compared to $4.9 billion in 32 deals in Q4 2013. There were a total of 20 investors that participated in multiple project funding deals this quarter. The top project funding deal this quarter was the $1.47 billion received by Typhoon Offshore for its 600 MW project.
Mercom also tracked more than 12 GW of new project announcements globally this quarter in various stages of development.
There were six M&A transactions in Q1 2014, one of which disclosed amounts totaling $419 million.
Project acquisitions in the first quarter totaled $3.8 billion compared to $2 billion in Q4 2013. The Top 5 largest project acquisitions by disclosed amount were led by the investment group La Caisse, which purchased a 25 percent share of the 630 MW London Array 1 wind project for $1.1 billion. That was followed by Brookfield Renewable Energy Partners' purchase of the 321 MW Bord Gais Energy wind project portfolio for $960 million, Green Investment Bank and Marubeni Corporation's 50 percent stake in the 210 MW Westermost Rough offshore wind project for $832 million, Copenhagen Infrastructure Partners' purchase of a 67 percent economic stake in a 900 MW offshore grid connection for wind projects for $526 million, and the Green Investment Bank's purchase of a 10 percent stake in the 576 MW Gwynt y Mor offshore wind project for $366 million.
Of the disclosed project acquisitions in Q1 2014, there were nine project developers that acquired wind projects, 10 investment funds, two independent power producers, and two utilities.
There are 142 companies, 181 projects and 78 investors covered in this report. The report also includes 41 charts and tables.
###
Featured Product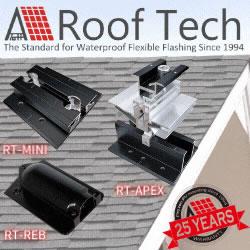 Now Roof Tech brings you the most innovative, watertight mounting systems ever developed for solar photovoltaic systems. Designed and manufactured exclusively for us by Japan's longtime leader in roofing technologies, Roof Tech products are 100% code-compliant and offer fast, simple installation and huge savings on shipping costs due to their compact, rail-less design. Learn more about our full line of versatile PV mounting solutions now available for residential installations. The next generation in rooftop solar mounting solutions."