http://www.awea.org/MediaCenter/pressrelease.aspx?ItemNumber=6406
Washington, D.C.,—The American wind industry continues the construction boom that started 2014, with more than 13,000 megawatts (MW) of wind energy projects under construction at the end of the first quarter. This historic wave of activity is driving momentum as the industry gathers for its annual WINDPOWER Conference and Exhibition 2014, May 5-8 in Las Vegas, and the full Senate prepares to take up a tax extenders package, including the renewable energy Production Tax Credit.

Twenty-one states across the country are now seeing wind energy-related construction activity that when completed, will power the equivalent of approximately four million average American homes. The top states for construction activity include Texas (with over 8,000 MW), Iowa (over 1,000 MW), Kansas (over 700 MW), North Dakota (over 600 MW), and Oklahoma (with nearly 500 MW). The U.S. wind industry installed 133 turbines totaling 214 MW in the first quarter, which is more MW installed than the first three quarters of 2013. Total installed wind capacity in the U.S. now stands at 61,327 MW.
"The U.S. wind industry has a busy few weeks ahead," said AWEA CEO Tom Kiernan, "with the largest wind energy conference in North America coming up, and momentum on Capitol Hill to take up an extenders package in the full Senate, including the Production Tax Credit.
"This year's conference will not only highlight the 'now' of wind energy, we'll also hear from DOE about progress on its Wind Vision report of how U.S. wind energy can double by 2020 and grow to meet 20 percent of U.S. electricity demand by 2030. An extension of the PTC is essential to continuing the growth of U.S. wind energy, and we look forward to watching the full Senate take up the package soon."
Nearly 1,000 MW of new Power Purchase Agreements (PPAs) for wind energy have been announced so far in 2014, building on the 8,000 MW of PPAs signed in 2013. Corporate purchasers Google and Ikea made news this spring inking deals to purchase wind energy.
"Utilities and industrial ratepayers continue to see the value of wind energy as a fixed-price source of energy with no fuel price risk, which hedges against volatile prices for other fuels," said Kiernan. "And with the cost of wind energy down 43 percent in four years, corporate purchasers with large data centers or facilities are increasingly signing up for wind as a low-cost option that saves their customers money."
AWEA's annual WINDPOWER Conference and Exhibition is expected to attract close to 10,000 attendees and over 400 exhibitors from around the world. With the PTC in place, the American wind industry is capable of attracting up to $25 billion a year in private investment. "The first-quarter results released today show the industry is off to a roaring start," said Kiernan. "We'll hear more about the future next week at WINDPOWER."
Accredited members of the press are encouraged to attend WINDPOWER and can apply for a press pass by contacting Lindsay North at lnorth@awea.org.
About AWEA
AWEA is the national trade association of the U.S. wind energy industry, with 1,300 member companies, including global leaders in wind power and energy development, wind turbine manufacturing, component and service suppliers, and the world's largest wind power trade show, the AWEA WINDPOWER Conference & Exhibition, which takes place next in Las Vegas, NV, May 5-8, 2014. AWEA is the voice of wind energy in the U.S., promoting renewable energy to power a cleaner, stronger America. Look up information on wind energy at the AWEA website. Find insight on industry issues at AWEA's blog Into the Wind. Join AWEA on Facebook. Follow AWEA on Twitter.
Featured Product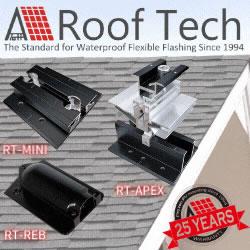 Now Roof Tech brings you the most innovative, watertight mounting systems ever developed for solar photovoltaic systems. Designed and manufactured exclusively for us by Japan's longtime leader in roofing technologies, Roof Tech products are 100% code-compliant and offer fast, simple installation and huge savings on shipping costs due to their compact, rail-less design. Learn more about our full line of versatile PV mounting solutions now available for residential installations. The next generation in rooftop solar mounting solutions."