The team will deliver solar projects under power purchase agreements with the U.S. Department of Defense.
ROCKVILLE, MD – April 30, 2014 – The U.S. Army Corps of Engineers has pre-qualified a four-company team led by TransGen Energy of Rockville, Maryland to bid for solar projects at U.S. military installations throughout the United States and its territories.

The TransGen Energy team was one of 38 entities recently authorized to pursue solar power generation Task Orders under a Multiple Award Task Order Contract (MATOC).
TransGen Energy, a leading provider of petroleum, natural gas, and other energy-related products and services and a registered Service Disabled Veteran Owned Small Business, is serving as prime contractor for the TransGen Solar Team. The team will deliver solar projects under power purchase agreements with the U.S. Department of Defense.
Another team member is ConEdison Solutions, one of the country's largest energy services companies. The Valhalla, New York-based firm will oversee and operate each installed solar facility.
The third partner, Quanta Solar Solutions Distributed Generation of Denver, is an installer of distributed generation solar PV projects across the country. Quanta Solar will install the awarded solar sites.
Finally, PS&S Global – a Warren, New Jersey-based Service Disabled Veteran Owned Small Business company that develops and manages projects involving alternative and renewable energy, energy efficiency, site remediation, and pre-fabricated buildings – will engineer and develop the projects.
"Our team is proud to have been selected to help the American defense community expand its use of clean and renewable solar energy," said C. Derek Campbell, CEO and President of TransGen Energy, and a reserve USMC Lieutenant Colonel. "The TransGen Energy team looks forward to working with the U.S. Army Corps of Engineers to help achieve President Barack Obama's critical, renewable energy goals for America."
"ConEdison Solutions is pleased to be part of the TransGen Solar Team and to work with these elite firms, who share our goals and vision for renewable energy and solar development," said Jorge J. Lopez, President and CEO of ConEdison Solutions. "Through its continuing commitment to clean energy, the Defense Department is setting an excellent example for the entire country."
Marine Lieutenant General Frank Libutti, USMC retired and CEO and President of PS&S Global, said, "We are pleased to be a member of this one-of-a-kind partnership that brings together some of America's most highly qualified solar energy companies."
In conjunction with the Army Energy Initiatives Task Force, the U.S. Army Corps of Engineers had first conducted a MATOC selection process in 2012 for various renewable projects with a heavy focus on solar power generation. The U.S. Army Corps of Engineers' Huntsville Center will be responsible for issuing Task Orders for the development and implementation of these solar power generation assets to be deployed at designated U.S. Military Installations. Once developed, these assets will provide power under Power Purchase Agreements with the Department of Defense for up to 30 years.
About TransGen Energy, Inc.
TransGen Energy, Inc. is a full service international energy company providing government and commercial clients with energy solutions (both traditional and renewable/alternative) in three areas: Oil & Gas, Power & Utilities, and Energy Services. TransGen Energy has teaming relationships with leading international energy companies – allowing us to provide "Best-in-Class" products and services to our clients. TransGen Energy is registered as an SBA-certified Service Disabled Veteran Owned Small Business (SDVOSB).
More information can be obtained by calling 1-888-907-5541 or visiting the TransGen Energy website at www.transgen-energy.com. Please follow us on Twitter (TransGen Energy) or on LinkedIn.
About ConEdison Solutions
ConEdison Solutions is a leading energy services company that provides competitive power supply, renewable energy, sustainability services, and cost-effective energy solutions for commercial, industrial, residential, and government customers. The company is based in Valhalla, New York, with offices in Burlington, Massachusetts; Cherry Hill, New Jersey; Falls Church, Virginia; Houston, Texas; Chicago, Illinois; Tampa, Florida; and Overland Park, Kansas. The firm's dedicated team of energy professionals delivers a broad range of commodity, consulting, demand-side management and performance contracting services. ConEdison Solutions offers programs and services designed to help customers achieve their individual energy objectives and is accredited as an Energy Services Provider (ESP) by NAESCO.
ConEdison Solutions is a subsidiary and registered trademark of Consolidated Edison, Inc. (NYSE: ED). More information can be obtained by calling 1-888-210-8899 or visiting the ConEdison Solutions website at www.conedsolutions.com. You can also visit the Consolidated Edison, Inc. website at www.conedison.com for information on all of the Consolidated Edison companies.
Follow us on twitter | Become a Fan on facebook
Featured Product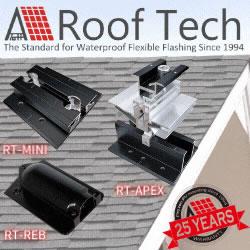 Now Roof Tech brings you the most innovative, watertight mounting systems ever developed for solar photovoltaic systems. Designed and manufactured exclusively for us by Japan's longtime leader in roofing technologies, Roof Tech products are 100% code-compliant and offer fast, simple installation and huge savings on shipping costs due to their compact, rail-less design. Learn more about our full line of versatile PV mounting solutions now available for residential installations. The next generation in rooftop solar mounting solutions."