The JOBS Act of 2012 Opens Up New Frontier For Green Energy Funding
BELLEAIR BLUFFS, Fla., April 29, 2014 -- As the Crowdfunding craze catches on for thousands of companies, a new solar funding company, CrowdSun.com, now makes investing in solar energy easy.

"Most investors in solar projects are the big-money institutions, and they are privy to stable solar investments that can earn anywhere from 4% to 20% annually – until now," says Mark Yegge, CEO of CrowdSun.com. "Smaller investors can now take advantage of the shift to green solar energy through our crowdfunding site."
"We are excited about the prospects. Our first solar project raised $300,000 in just 3 days. We think that this is the wave of the future."
The company matches investors to solar projects that have been screened by staff and 3rd parties to ensure that they are suitable and of high enough quality to present to CrowdSun.com's investors. Solar project developers/owners can list their projects on the site and immediately gain access to thousands of potential investors.
Along with each project you will find a prospectus. This lays out any risks that may come with a project. CrowdSun.com is careful to include all the details down to the contracts, equipment that will be used, developers and installers. In turn this gives you almost a worry free investment with their platform.
The solar industry grew installations by 41% in 2013, and solar accounted for 29% of all new electricity generation capacity added, according to the Solar Energy Industries Association and crowdfunding itself has grown by an estimated 1,000% in the past 5 years. Forecasts are for the crowdfunding industry to hit $93-billion by 2025, according to the World Bank.
Combining these two megatrends: a shift to solar energy, and raising capital via crowdfunding will accelerate opportunities for both developers and investors, both of whom were excluded from access to the market in the recent past.
CrowdSun.com is a crowdfunding site specifically geared towards investment-grade solar projects. The help solar project developers/owners gain critical access to funding. They also bring high-quality solar projects directly to investors. The company maintains a relationship with the project owners and investors while servicing the funding after the project goes live.
For More Information contact: Jennifer Reinert via e-mail at inquiries@CrowdSun.com
www.CrowdSun.com
Featured Product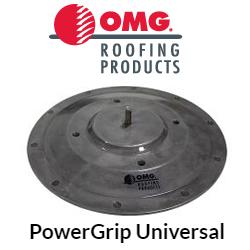 PowerGrip Plus Roof Mount System, a watertight structural attachment system used to secure ballasted solar racks and other equipment to roofs covered with thermoplastic (TPO and PVC) membranes. PowerGrip Plus is designed with wind performance in mind and offers ultimate tensile strength of 2,000 lbf. and ultimate shear strength of 1,075 lbf. Properly installed PowerGrip Plus units reduce rack movement and remaining watertight. PowerGrip Plus units are easy to install, saving both time and labor when compared to alternative options. A wide membrane skirt promotes easy welding in place, and the 15/8 diameter and 1/2 inch tall mount provides an optimal perch for securing brackets or struts. The exposed 1 inch tall and 3/8 inch diameter bolt and mounting stand are made from corrosion-resistant stainless steel and aluminum alloy for superior long-term performance.