Selected for two projects in California
TEMPE, Ariz.--First Solar, Inc. (NASDAQ: FSLR) has been selected as the turnkey Engineering, Procurement and Construction (EPC) contractor for two projects under development by EDF Renewable Energy in California.

First Solar and EDF Renewable Energy have signed EPC agreements for the 19.76 Megawatt (MW) AC CID Solar Project, located in Kings County; and the 23MWAC Cottonwood Solar Project, consisting of two sites, one located in Kings County and the other in Kern County. The CID Solar Project has a Power Purchase Agreement (PPA) with Pacific Gas and Electric Company. The Cottonwood project has a PPA with Marin Clean Energy.
"We are proud to be selected by EDF Renewable Energy as a builder of choice," said Christopher Houghton, First Solar's Senior Manager of US Business Development. "With these projects, First Solar continues to bring value to customers counting on our proven experience and reliability in providing cost-effective energy solutions."
Both CID Solar and Cottonwood projects will be built with First Solar's Series 3 Black Plus PV thin-film solar modules, and will provide enhanced grid reliability and stability using the company's advanced PV plant controls. Construction on the projects is expected to begin in the second quarter of 2014, with CID Solar anticipated completion in October 2014 and Cottonwood anticipated completion in the first quarter of 2015.
About First Solar, Inc.
First Solar is a leading global provider of comprehensive photovoltaic (PV) solar systems which use its advanced module and system technology. The company's integrated power plant solutions deliver an economically attractive alternative to fossil-fuel electricity generation today. From raw material sourcing through end-of-life module recycling, First Solar's renewable energy systems protect and enhance the environment. For more information about First Solar, please visit www.firstsolar.com.
Featured Product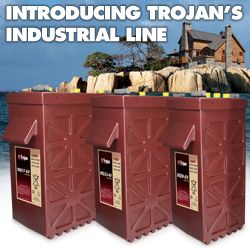 Trojan's deep-cycle batteries provide rugged durability, outstanding performance and long life for use in all types of solar energy installations. With over 90 years of experience, Trojan delivers the world's most reliable and trusted batteries in flooded, AGM, Gel, and Lithium types. These batteries enable solar equipment systems to operate at a peak level of performance in the harshest conditions or the most challenging of locations and are manufactured and tested to IEC standards.