All five systems in Massachusetts are ground-mounted.
Lawrence, MA - May 6, 2014 - Solectria Renewables, LLC, a leading U.S. PV inverter manufacturer, announced today that its SMARTGRID 500 Inverters (SGI 500) have been purchased by NuGen Capital for five projects totaling over 13 MW in Massachusetts.

All five systems in Massachusetts are ground-mounted. They are located in Swansea, Lunenburg, Whatley and Hadley. These projects generate net metering credits from the facilities and produce credits that will be made available to manufacturers and municipalities in the area via their utility provider.
"It has been a pleasure to work with Solectria Renewables on these five projects" said David Milner, CEO of NuGen Capital Management. "They are a strong, reliable, local company with excellent products that exceeded all of our requirements. As NuGen expands in the U.S. and abroad we look forward to working with Solectria on future projects."
"It's always an honor to participate in local solar deployments in our home state of Massachusetts," said Phil Vyhanek, President of Solectria Renewables. "We value long term relationships with proven, skilled partners and investors, such as NuGen Capital Management, and we are pleased they place such faith in our technologies and continue to choose us as their inverter manufacturer."
About Solectria Renewables, LLC
Solectria Renewables, LLC is a leading U.S.-based grid-tied photovoltaic inverter manufacturer. We offer residential, commercial and utility-scale inverters. Our versatile line of high efficiency products provide power solutions ranging from 1 kW residential systems to multi-megawatt solar farms. Solectria Renewables' products are backed by more than 20 years of experience in the power electronic and inverter industries and are supported by world class warranties. All of our 3-phase central and utility-scale PV inverters are manufactured in the USA, ARRA compliant, and listed to UL 1741/IEEE 1547. To learn more about Solectria Renewables, please visit http://www.solectria.com.
About NuGen Capital Management
NuGen Capital Management owns, operates and develops renewable energy projects as well as invests in real estate conducive to energy generation and storage. NuGen's primary energy focus is on grid connected and behind the meter solar projects. Real estate investments include large parcels of land and commercial properties where solar energy and storage are viable. Based in Rhode Island, NuGen seeks opportunities where renewable energy policies encourage job creation and energy sustainability. For more information, please visit: www.nugencapital.com.
Featured Product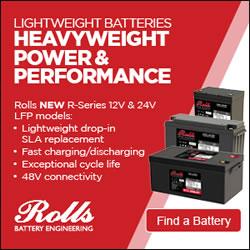 Designed for true drop-in replacement, Rolls new R-Series 12V & 24V LFP lithium models offer a maintenance-free lightweight flooded and SLA alternative in four popular BCI case sizes with fast charge/discharge capability. Rolls custom built-in BMS provides all necessary operating protections for safe operation and seamless integration for deep cycle replacement in 12V, 24V or 48V systems.