~Community Support and Unique Engineering Turn 100 Year-old Municipal Waste Landfill in Eaton Rapids, MI Into 535.5kW Solar Energy Facility with 2100 PV Panels Generating Less Costly Electricity for Residents and Businesses~
Eaton Rapids, MI- May 6, 2014- Today, Helios Solar and Renusol America

announce that a 100 year-old community waste landfill in Eaton Rapids has
been redeveloped as Michigan's first brownfield location to generate
renewable energy. Closed and 'capped' 20 years ago and unused since then,
the landfill is now the site of a 535.5kW solar system with 2100 PV panels.
Helios Solar, the project engineer and installer, and Renusol America, a
solar mounting system manufacturer, joined forces in engineering the system
to maintain the integrity of the sealed landfill and maximize power output.
"From an engineering perspective, a system like this had never been done
before," noted Helios CEO, Connor Field. "Not only was a low profile,
ballasted non-penetrating mounting system required for the panels, but the
'cap' covering the landfill is curved for drainage and not flat as is the
case for typical solar installations. Our challenge was to optimize panel
placement on an uneven surface to make the project economically feasible."
Helios selected Renusol America's CS60 one-piece-per-panel ballasted
mounting system, which is designed to handle grade variations on uneven
surfaces. "Most flat roof mounting systems only work on absolutely flat
roofs," added Field. "The Renusol CS60 system can adapt to grade changes and
non-linear configurations, so we were able to increase the number of panels
in the array configuration and maximize power output for the entire
project."
Eaton Rapids Solar LLC will own and operate the facility, which is expected
to generate 658 MWh of solar generated electricity annually for the City
Eaton Rapids Electrical Utility. The lower cost power will be purchased by
The City of Eaton Rapids and distributed to residential and commercial
ratepayers in the community. The project is also expected to generate enough
power to meet one-third of the community's renewable energy requirements
under the State's Renewable Portfolio Standard (RPS) regulations.
About Helios Solar
Helios Solar specializes in the Design, Installation, and Operation of
Commercial and Utility Scale Solar Photovoltaic Electricity Generation
Facilities in Michigan.
More can be found at www.helios-power.com
About Renusol America
Renusol America is a leading innovator in flat-roof and pitch-roofed
mounting systems for PV modules in the US solar industry. Renusol America
provides sales, service, and customer support from its headquarters in
Atlanta, Georgia and through a network of authorized distributor partners
across the country. The company is a wholly owned subsidiary of Renusol
GmbH, a market leader in Europe with close to 1GW of solar power mounted on
Renusol systems. More information can be found at
www.renusolamerica.com-
Featured Product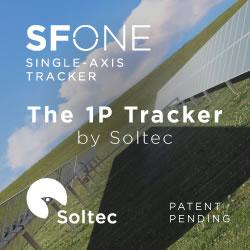 SFOne is the 1P single-axis tracker by Soltec. This tracker combines the mechanical simplicity with the extraordinary expertise of Soltec for more than 18 years. Specially designed for larger 72 an 78 cell modules, this tracker is self-powered thanks to its dedicated module, which results into a lower cost-operational power supply. The SFOne has a 5% less piles than standard competitor, what reduces a 75% the labor time.