The world's first Seatower Cranefree Gravity foundation will be deployed at the Fécamp offshore wind farm in the English Channel.---- Foundation technology designer Seatower will together with Eiffage Travaux Publics and MT Højgaard deliver the project for Fécamp development partners EDF Energies Nouvelles, Dong Energy and wpd offshore.---- The three partners have selected Seatower's game-changing design because of the pioneering technology's promise to cut construction costs and neutralise installation risks for the offshore wind sector.---- The Seatower foundation is a concrete structure placed on the seabed, specifically designed for the next generation of wind farms that will be built in deeper water and with bigger turbines.---- The offshore installation process is thoroughly de-risked compared with current techniques. Seatower Cranefree Gravity foundation relies on ordinary towing vessels rather than weather-sensitive crane vessels.
The three companies EDF Energies Nouvelles, Dong Energy and wpd offshore developing the Fécamp offshore wind farm have chosen to demonstrate and install Seatower's patented Cranefree Gravity® foundation design at their joint project off the coast of Normandy.

The Fécamp demonstrator project is the final step in Seatower's efforts to move the foundation design to full-scale deployment and industrialisation.
Norwegian based Seatower will together with their partners manage the installation project, including the demonstration of the entirely new "float-out-and-sink" offshore installation method. This means that for the first time ever, an offshore wind foundation will be installed using only regular towing vessels.
This unique installation method represents the most important aspect of the demonstrator. There are already around 300 installed offshore wind foundations that are safely and robustly holding wind turbines in harsh maritime conditions and that like Cranefree Gravity are mainly made from concrete rather than steel,. However, these so-called "gravity base" foundations have to date been installed using highly specialised crane-ships, which are typically scarce, expensive and weather-sensitive.
The Fécamp demonstration project is scheduled for early 2015. It will showcase the technology's game-changing installation advantages to developers of offshore wind farms across Europe, especially those with project sites that have deep waters – more than 30 meters – and that face the challenging weather conditions typical of the North Sea.
Seatower's technology gives offshore wind farm constructors more overall control of the installation process. Construction management can run foundation installation programmes all year round, uninterrupted by poor weather. The process can also easily be speeded up if necessary by increasing the number of towing vessels. What's more, crane-free installation does not involve noisy underwater piling, which is subject to restrictions in several jurisdictions, including "no-build" seasons when installation is prohibited for fear of noise interference with mammals.
The Fécamp foundation will be pulled around 13 kilometers by a towing vessel before being positioned and subsequently sunk in a controlled manner by gradually letting in seawater. It will be outfitted with equipment that will measure wind and other parameters on the site, as well as to provide data for future optimisation of the technology.
French construction giant Eiffage, which is an established manufacturer of conventional, steel-based foundations for the offshore wind sector, will fabricate the demonstrator foundation at the port of Le Havre.
Only low-cost components like concrete and standard grade steel will be used to construct the foundations. This will enable high manufacturing automation and economies of scale when the technology is commercially deployed in the near future. The commercial phase will eventually involve hundreds of gravity base foundations being produced a year.
The Seatower team have long track records in introducing and supplying new offshore technologies. The company benefits from long-standing partnerships with several world-class offshore wind operators and a broad range of offshore suppliers.
"Our technology will ease and speed up the construction of offshore wind farms at a time when cutting costs and risks is necessary to help the sector progress to more challenging project sites," said Seatower CEO Petter Karal. "Cranefree Gravity®foundations are generally more cost-efficient, quicker to install and less risky than current methods that use steel foundation designs. They also allow for local construction, which provides welcome economic activities to the coastal communities close to the wind farms."
Featured Product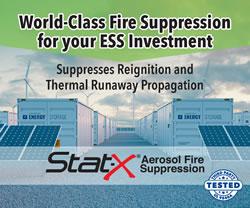 Stat-X® Condensed Aerosol Fire Suppression is a solution for energy storage systems (ESS) and battery energy storage systems (BESS) applications. This includes in-building, containerized, and in-cabinet applications. The Stat-X product was tested for efficacy in putting out Li-ion battery fires. It was found that the Stat-X agent successfully extinguished single and double cell battery fires. This testing was conducted in parallel with a large battery fire testing program. DNV GL Energy conducted the testing and validated effectiveness of the Stat-X aerosol agent on cell level Li-ion battery fires.