2nd ENERGY STORAGE INDIA Conference & Expo, taking place from December 4 - 5, 2014 in New Delhi
The structural realignment of the energy infrastructure in India is the

focus of the 2nd ENERGY STORAGE INDIA Conference & Expo, taking place from
December 4 - 5, 2014 in New Delhi. With the main focus on new
technologically and economically viable energy storage and microgrid
technologies, the Conference & Expo will systematically present a selection
of practical applications and pioneering solutions while illustrating the
necessary political conditions. On December 3, one day before the start of
the Expo, visitors and exhibitors can take part in the introductory
workshops of the Conference. The Conference will be held at the Kempinski
Ambience Hotel.
ENERGY STORAGE INDIA 2014 is jointly organized by Messe Düsseldorf India
and the India Energy Storage Alliance (IESA), an initiative by Customized
Energy Solutions for the promotion of energy storage and microgrid
technologies. The Conference & Expo is supported by numerous international
associations and partners. ENERGY STORAGE INDIA Conference & Expo is a
member of Messe Düsseldorf's WORLD OF ENERGY STORAGE product family. The
successful concept of conference and expo on the subject of energy storage
has already been implemented in five countries (China, Germany, India, Japan
and the U.S.) in cooperation with expert partners in the respective regions.
After China, India is the most populated nation in the world, with a
total population of almost 1.3billion. Providing access to reliable power
and power quality for all is a major challenge. In the Smart Grid Vision and
Roadmap, the Ministry of Power has set a goal for electrification of all
households with minimum 8 hours of power availability. This will require
providing electricity to over 400 million people currently not connected to
the grid. Installing technologically and economically viable storage
solutions is of crucial importance. While developments are still in their
infancy, the market has tremendous potential. Last year, India assumed a
pioneering role in the deployment of advanced energy storage systems,
particularly for decentralized applications with over $300 million spent on
Li-Ion battery systems for telecom towers. Apart from the 600,000 telecom
towers, India is also planning to install 26 million solar powered water
pumps in the coming decade. Over the next two years, the government will
install the first pilot grid scale energy storage plants and plans for a
major implementation of this technology are to be completed by 2022. By
2020, India plans to install additional 30 GW of energy harnessed from wind
power and 20 GW from solar power into the national grid.
ENERGY STORAGE INDIA 2014 will be an ideal platform for companies
interested in detailed information about the requirements of the Indian
market and provides the opportunity to present the company's own products to
a specialist audience while establishing new business partnerships. The
Conference & Expo will bring together different interest groups and boost
the competitive strength and efficiency of India's industry by promoting the
exchange of information between technology providers, project developers and
consumers. Among the main subjects addressed by the Conference & Expo will
be issues such as the national and international legal conditions, the
integration of renewable energy, off-grid applications, microgrids, smart
grids, electro mobility and the protection of critical infrastructures.
International experts are invited to submit their papers.
The premiere staging of ENERGY STORAGE INDIA Conference & Expo in
December 2013 attracted 300 delegates from twelve countries and 14
exhibitors presented innovative technologies and applications. The event
helped to advance the dialogue for rapid energy storage and microgrid
development in India by bringing together various technology developers with
potential partners, policy makers and key customers.
For further information on visiting or exhibiting at ENERGY STORAGE INDIA
2014, contact Messe Düsseldorf North America, 150 North Michigan Avenue,
Suite 2920, Chicago, IL 60601. Telephone: (312) 781-5180; Fax: (312)
781-5188; E-mail: info@mdna.com; Visit; www.esiexpo.in; Subscribe to our
blog at http://blog.mdna.com; Follow us on twitter at Follow us on twitter
at http://twitter.com/EnergyStorageNA
Featured Product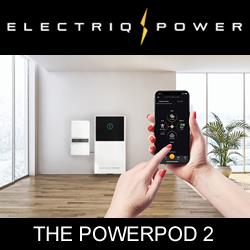 The Electriq PowerPod 2 is a fully-integrated home energy storage, management, and monitoring system powered by LFP batteries. The high-performance, cobalt-free product includes a hybrid solar/battery inverter controlled by intelligent software. The PowerPod 2 provides backup power and can self-consume or export excess power back to the grid.