Event will feature keynote presentation by Susan Reilly, CEO of RES Americas
Denver, Colo. – May 9, 2014 – On Thursday, May 15, Ecotech Institute, the first and only college in the U.S. solely focused on renewable energy and sustainability, is hosting a one-day "Renewable Energy and Sustainability Forum." It will go from 10:00 a.m. to 5:00 p.m. at Ecotech Institute's campus in Aurora at 1400 S. Abilene Street, right off of I-225. Key speakers for this event will include members from Ecotech Institute's Board of Directors and the CEO of RES Americas, Ms. Susan Reilly.

"It's an honor to have Ms. Reilly for this event. She's a very influential leader in the renewable energy sphere and we're excited to hear what she has to say about energy efficiency and sustainability," said Chris Gorrie, academic dean at Ecotech Institute. "RES (Renewal Energy Systems) holds a reputation as a leading independent renewable energy project developer, and there is so much our students and guests can learn from her."
In Reilly's current role at RES, one of the fastest growing renewable energy companies in the world and a leading resource for renewable energy jobs, she leads the continued growth and development of the company's highly successful regional business and contributes to the strategic management of the RES group. During this event she will share her insights and knowledge, gained from over a decade of experience in the industry.
In addition to Reilly's comments, the event will include a panel discussion from Ecotech Institute's National Board of Directors. The discussion will be followed by a question and answer session with the Board that will be focused on sustainability, energy efficiency and renewable energy.
DATE:
Thursday, May 15, 2014
TIME:
10:00 a.m. – 5:00 p.m.
LOCATION:
Ecotech Institute, 1400 S. Abilene Street, Aurora, CO 80012
SCHEDULE:
10:00 – 10:30 a.m. - Arrival and Networking
10:30 – 10:45 a.m. - Opening Remarks
10:45 – 11:15 am. - Susan Reilly, RES Americas
11:30 – 12:15 p.m. - Guest Panel Discussion
12:15 – 12:45 p.m. Lunch
12:45 – 1:15 p.m. - Richard Heinberg, author from the Post Carbon Institute
1:14 – 1:45 p.m. - Libby Prueher, PhD, Faculty Member at Ecotech Institute
2:00 – 3:15 p.m. Ecotech Institute National Board of Advisors Panel Discussion
3:30 – 4:15 p.m. – Ian Baring-Gould from the National Renewable Energy Lab
4:30 – 5:00 p.m. - Abbas Ghassemi, president of Ecotech Institute's National Advisory Board
Ecotech Institute will have a live stream of all the sessions. To watch the sessions during the conference and to learn more, visit http://www.ecotechinstitute.com/landings/conference/.
Ecotech Institute is the first and only school in the U.S. that is solely dedicated to sustainable energy, such as solar and wind. The school currently offers eight associate's degree programs:
*Facility Management Technology
*Residential Energy Management
*Solar Energy Technology
*Wind Energy Technology
*Renewable Energy Technology
*Electrical Engineering Technology
*Power Utility Technician
*Business Administration – Sustainability.
For more information on Ecotech Institute, visit www.ecotechinstitute.com.
About Ecotech Institute
Ecotech Institute is the first and only college entirely focused on preparing America's workforce for careers in renewable energy and sustainability and is accredited by the Accrediting Council for Independent Colleges and Schools. Launched in April 2010 in Denver, Colorado, it offers eight highly practical renewable energy degree programs that provide graduates with skills valued by today's alternative renewable energy employers. Classes start once per quarter and applications are always accepted. Financial assistance is available to those who qualify. Ecotech Institute is a division of Education Corporation of America. For more information about Ecotech Institute, visit ecotechinstitute.com or call 877-326-5576.
Featured Product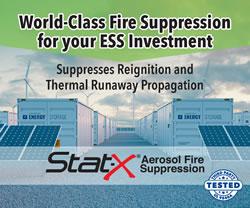 Stat-X® Condensed Aerosol Fire Suppression is a solution for energy storage systems (ESS) and battery energy storage systems (BESS) applications. This includes in-building, containerized, and in-cabinet applications. The Stat-X product was tested for efficacy in putting out Li-ion battery fires. It was found that the Stat-X agent successfully extinguished single and double cell battery fires. This testing was conducted in parallel with a large battery fire testing program. DNV GL Energy conducted the testing and validated effectiveness of the Stat-X aerosol agent on cell level Li-ion battery fires.