Government, industry and conservation groups come together to fund £50k research – with more to come
An innovative guide to how birds interact with wind farms is to be produced by government, industry and charities, a summit tomorrow (May 13) will hear.

More than £50,000 has already been spent on a series of studies by the Scottish Windfarm Bird Steering Group, made up of the Scottish Government, Scottish Natural Heritage, RSPB Scotland and Scottish Renewables.
At a summit in Perth tomorrow, the partnership will announce the development of a 'Good Practice Guide' on how bird populations, and the habitats on which they depend, can be more effectively managed, as well as the results of work done to date. More funding is already earmarked for future studies to help develop the guide.
Environment Minister Paul Wheelhouse welcomed the move, saying: "This is an important step forward, demonstrating that the renewables industry and conservation groups are working together to help the conservation of bird populations across Scotland.
"It is particularly encouraging to see the focus from the group to base the guide on real evidence rather than on speculation. By working closely with the industry I am sure they will produce a practical guide for the future."
The Scottish Windfarm Bird Steering Group (SWBSG) has research worth around £54,000 underway. The group is funded by the Scottish Government, SNH, RSPB Scotland, Scottish Renewables and industry partners SSE, ScottishPower Renewables, RES and Vattenfall.
The research projects, currently being carried out by Stirling and Newcastle Universities, are examining the long-term effects of wind farm developments on birds, habitat management and the methods and techniques used in monitoring and surveying birds.
Professor Colin Galbraith, Chairman of the SWBSG, stressed the need to work with industry in order to produce guidance that can be put into practice at sites across Scotland. He said: "The renewables industry is acutely aware of the need to protect the environment and this guide will provide it with additional tools to do this.
"By involving industry and conservation groups in its production, the guide will build on existing monitoring of bird populations and data-sharing initiatives, as well as providing a unique overview and insight into the techniques used to manage habitats for birds around wind farms."
Joss Blamire, Senior Policy Manager at Scottish Renewables, said: "The SWBSG is a good example of industry and government working pro-actively together to develop ground-breaking research.
"The work of the group will feed into the Good Practice Guide and help industry formulate plans for responsible wind farm developments in Scotland, continuing their role in creating jobs and economic growth while simultaneously benefiting our natural environment."
Aedan Smith, RSPB Scotland Head of Planning and Development, said: "The Scottish Windfarm Bird Steering Group's proposal to develop a good practice guide is a welcome step forward in ensuring the long-term sustainability of the renewable energy industry in Scotland. It marks good progress for SWBSG, and we look forward to further outputs and continuing to assist the group in its work."
Ian Ross, chair of Scottish Natural Heritage, said: "We are pleased to work with the SWBSG and setting out good practice in this way is extremely useful in helping to have the right development in the right place. It gives the renewables industry as much certainty as possible by providing practical examples of how we can balance environmental, economic and social interests. We are committed to this action in tackling climate change and meeting the future energy needs of Scotland."
Tomorrow's summit, at the Battleby Conference Centre near Perth, will hear from some of the recent research undertaken to support the SWBSG, and will include workshop sessions where representatives from a variety of conservation groups and from industry will discuss current priorities for action.
Featured Product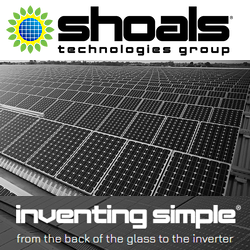 Inventing Simple® isn't just a slogan to us, it's a way of life. Using simple plug-and-play ideology, we revolutionized solar installations in 2003 with our Interconnect Systemâ"¢. Our harnessing system is now the gold standard EPC's use around the world. By using simple ideas, we are making solar energy a more affordable and clean power source for future generations.