Three days of racing launches this Friday, May 16, at Metropolitan Water District's 12th annual Solar Cup™
LOS ANGELES--Final preparations continue for the nation's largest solar-powered boat competition with 40 teams of high school students throughout Southern California entering the home stretch for three days of racing this weekend as part of Metropolitan Water District's Solar Cup™.

Beginning Friday (May 16), teams from high schools (see accompanying list) in Los Angeles, Orange, Riverside, San Bernardino, San Diego and Ventura counties are participating through the weekend in the 12th annual Solar Cup at Metropolitan's Lake Skinner, just north of Temecula.
About 10,000 students have participated in Solar Cup since the inaugural event launched with just eight boats in 2002. The program is a team-based educational competition that allows students to apply their skills in math, physics, engineering and communications, while learning about Southern California's water sources, resource management, conservation and alternative energy development.
"The weekend of racing culminates the students' school-year commitment to learning about alternative energy, water conservation, sustainability, engineering and teamwork," said Solar Cup coordinator Julie Miller, a state-certified teacher in Metropolitan's education programs.
"Solar Cup serves as an educational benchmark for our future workforce while students gain hands-on lessons in science, technology, engineering and environmental sciences to round out their textbook curriculum," Miller said.
The competition begins with teams being put through a series of qualifying events by Metropolitan and a technical advisory team from Harvey Mudd and Occidental colleges to ensure boats meet rules and are safe and seaworthy. Saturday, May 17, will feature single-seat, 16-foot boats outfitted with solar-collection panels in endurance races around a 1-mile course.
Sunday is highlighted by 200-meter sprint races—in which the solar panels are removed and the boats are powered by solar energy stored in batteries. The races will be followed by an awards ceremony, with trophies awarded in veteran and rookie divisions for teams with the highest points, as well as to teams honored for "Hottest-Looking Boat," teamwork and sportsmanship.
Races are easily visible from the lake shoreline and are open to the public from 8 a.m. to 4 p.m. with free admission and parking. Lake Skinner is at 37701 Warren Road in the Temecula Valley community of Winchester in southwest Riverside County—about 10 miles northeast of the Rancho California Road exit off Interstate 15.
Since building identical hulls last November from kits supplied by Metropolitan, students have worked nights and weekends to maximize their boats' endurance, speed and mechanical and electrical efficiencies. Over the past few months, working with their sponsoring Metropolitan member and local agencies, they have equipped the 16-foot-long shells with solar panels, batteries, electrical systems, drive trains, propellers and rudders.
In advance of the three-day event, teams are fine-tuning their hand-built boats equipped with solar panels, motors and steering. In addition to the veterans division, Solar Cup features a rookie division for first-time teams. Teams also are divided into four regions—the Foothill, Central & Bay, Inland Empire and South Counties regions.
Winners are the teams with the highest number of points gained in the competitions, technical inspections, submission of three technical reports and creation of a public service announcement focusing on water conservation in the form of a 30- to 60-second, self-scripted and produced, conservation video or audiotape or a brochure.
Event videos and photos from past Solar Cup events can be found under Education Programs at Metropolitan's website, www.mwdh2o.com.
The Metropolitan Water District of Southern California is a cooperative of 26 cities and water agencies serving nearly 19 million people in six counties. The district imports water from the Colorado River and Northern California to supplement local supplies, and helps its members to develop increased water conservation, recycling, storage and other resource-management programs.
Featured Product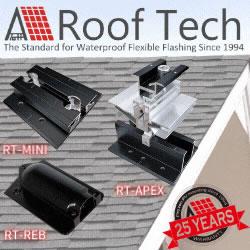 Now Roof Tech brings you the most innovative, watertight mounting systems ever developed for solar photovoltaic systems. Designed and manufactured exclusively for us by Japan's longtime leader in roofing technologies, Roof Tech products are 100% code-compliant and offer fast, simple installation and huge savings on shipping costs due to their compact, rail-less design. Learn more about our full line of versatile PV mounting solutions now available for residential installations. The next generation in rooftop solar mounting solutions."