Construction for this project is planned to start at the end of April in 2014 and completion is expected by the end of the year.
Powerway Renewable Energy Co. Ltd recently announced that they won the largest photovoltaic power station project order in Algeria. This ground photovoltaic power station is developed by Shariket el Kahraba wa el Taket el Moutadiadida (SKTM), which is the subsidiary of Algerian national natural gas and electricity distribution company (named "Sonelgaz"). Construction for this project is planned to start at the end of April in 2014 and completion is expected by the end of the year. The station is made up of three sub projects and 16 plants, with a total installed capacity of 233MW. Powerway provides solar photovoltaic mounting structures and the corresponding design services for 120MW of the total. After the completion of the plants, the annual output can reach 372.8 million KWh and nearly 4,660,000 tons of carbon dioxide emission can be reduced per year. It will be the largest photovoltaic power station around the whole African region.

Algeria, located in North Africa, with rich sunshine resources, is very suitable for development of solar photovoltaic industry. The Sahara desert covers 85% of Algeria with the climate and terrain being relatively complex. This means that, from design to construction, the photovoltaic power station is facing great challenges. Powerway is known for using advanced design concepts to the solar mounting system. This favors the large power station project demands of customers, saving on costs and providing an economic and reliable structure resilient to harsh conditions (wind and sand). In addition, in view of the complex soil and weather conditions, Powerway made a scientific and efficient construction plan for the customers.
The CEO of Powerway, Mr. Benson Wu said, "It is our honor to participate in the largest ground power station project in Africa and provide solar mounting structures and ground screws. This fully proves the business development ability of Powerway in the global PV market. Also, with great significance, it is an important milestone in business globalization of Powerway."
About Powerway:
Powerway Renewable Energy Co. Ltd , member of SinoTech Power Group, is  located in Guangdong Province, China, with subsidiary companies in Japan ,South Africa, Pakistan. As a professional solar farm builder with a certificate of electrical power contracting level 3, Powerway always endeavors to provide innovative design and deliver world class operation. Committed to providing reliable and cost effective solutions and a full range of construction services to the global PV power plant market. Our core business functions includes electrical design, structural design, product supply, services of construction, installation, operation and maintenance. To date, Powerway has provided solar power products and construction services in over 25 countries and regions. Additionally, Powerway has established long-term strategic cooperation partnerships with many well-known PV enterprises all around the world. Powerway is a trustworthy brand in the photovoltaic field.
For more information, please check the website : www.pvpowerway.com/en .
Featured Product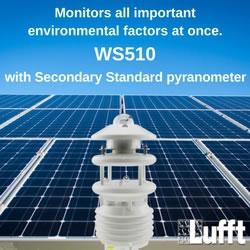 Professional weather sensors form the heart of large solar plants supporting their operation and performance. Lufft was the first manufacturer to combine several sensors in one housing, bringing the largest multiparameter weather sensor family with 19 members into being. Many of them are well-suited for solar site assessment and continuous monitoring. The most commonly used one is the WS600 delivering data on temperature, air pressure, wind, relative humidity and precipitation. Through its open protocol, it can easily be attached to radiation sensors e.g. from Kipp&Zonen. Other models have an integrated Silicon, Second Class or Secondary Standard radiation sensor.