Arlen Van Draanen, Richard Martinez discuss Global Geothermal Energy Development at Alternative Energy Advisors Geothermal Partners Conference
Arlen Van Draanen and Richard Martinez presented on global geothermal energy opportunities at the Alternative Energy Advisors Geothermal Partners and Clients Conference in Houston, TX. Highlights included a discussion of global geothermal industry growth, global geothermal resource development opportunities and a presentation of technology developments for enhanced geothermal resource utilization. In addition, legislation necessary to level the playing field for geothermal energy development in the United States was discussed. Richard Martinez said, "We are excited with the global opportunities geothermal energy development presents to our partners and clients and we are pleased to assist them in evaluating the myriad of opportunities that are available in the field." Arlen Van Draanen continued, "Alternative Energy Advisors recognizes the importance of geothermal energy in providing a broad mix of renewable energy globally and we are proud of the growing role AEA has in providing consulting, engineering and advisory services to the geothermal energy industry." He continued, "AEA brings a depth of practical expertise to this field that is without parallel in the industry."

About the Company: Alternative Energy Advisors offers full service consulting, engineering and advisory services to the Alternative and Renewable Energy Industry. The company has expertise with Wind, Solar, Geothermal, Biofuels, Biogas and Biomass to Energy Projects. Services offered cover a full range of capabilities including Technology Development and Optimization, Project Development, Project Finance, Project Construction and Project Start-up and Operations. Company partners are Thomas Williams, Arlen Van Draanen, Eric Wilson, Sheila Anderson and Richard Martinez. The company was founded in 2011 and is based in Houston, TX.
Featured Product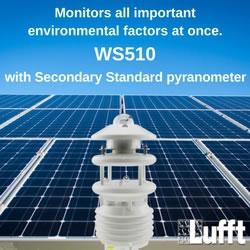 Professional weather sensors form the heart of large solar plants supporting their operation and performance. Lufft was the first manufacturer to combine several sensors in one housing, bringing the largest multiparameter weather sensor family with 19 members into being. Many of them are well-suited for solar site assessment and continuous monitoring. The most commonly used one is the WS600 delivering data on temperature, air pressure, wind, relative humidity and precipitation. Through its open protocol, it can easily be attached to radiation sensors e.g. from Kipp&Zonen. Other models have an integrated Silicon, Second Class or Secondary Standard radiation sensor.