New Westinghouse Solar commercial installation to cover nine senior-care facilities
Sydney, AU – May 14, 2014 – CBD Energy Limited, or CBD, (OTCBB: CBDNF) today announced that its Westinghouse Solar subsidiary has finalized a contract to provide commercial solar systems to nine aged care facilities in Australia. CBD Energy Limited is a diversified clean energy company and leading global provider of solar systems, having completed more than 17,000 residential installations. CBD Energy Limited markets its residential and commercial solar installations under the name Westinghouse Solar.

The size of the nine-facility installation is 522Kw. In total, the multi-facility installation is estimated to generate 872,382 Kwh annually, and save the customer approximately $85,000 per annum on its energy bill. In line with CBD Energy Limited's corporate model, Westinghouse Solar will conduct a comprehensive energy assessment to determine whether additional energy upgrades could further increase the energy efficiency of the residence.
"We congratulate the owner of these aged care facilities on 'going solar,' and leading the way on balancing care for their residents with protecting the environment in which they live and providing for long-term energy price certainty. Westinghouse Solar and CBD Energy are proud to help our clients achieve their energy conservation goals," said Gerry McGowan, Executive Chairman and Managing Director of CBD Energy Limited.
About CBD Energy Limited (OTC: CBDNF)
Established in 1989, CBD Energy Limited, or CBD, is a diversified renewable energy company and a global leader in solar installations. Powered by a management team with deep experience in the energy sector and strong engineering capabilities, CBD is focused on the integration of residential solar, commercial and industrial solar, small utility scale solar and wind projects, in three principal markets - Australia, the U.S. and UK.
Headquartered in Sydney, with principal regional offices in London and New York, CBD has completed projects across four continents, in countries as far-reaching as Australia, Fiji, Germany, Italy, New Zealand, the UK and the U.S. CBD has installed more than 17,000 residential systems and developed large renewable energy projects such as the 107MW wind farm in Taralga, NSW. CBD markets its residential and commercial solar installations under the name Westinghouse Solar, using the WESTINGHOUSE® trademark pursuant to an exclusive, long-term worldwide license. For further information on CBD Energy Limited and Westinghouse Solar, please visit:
www.cbdenergy.com
www.westinghousesolar.com.au
www.westinghousesolar.com
www.westinghousesolar.co.uk
Featured Product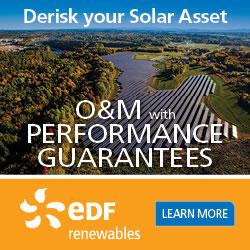 EDF Renewables offers the same innovative solutions that maximize the performance of our own 5.2 GW of installed projects. Because we're not an equipment manufacturer, our recommendations are transparent and data-driven. We cover the entire project lifecycle: from pre-commissioning support, through warranty and post warranty operation, to late stage and decommissioning.