Over the weekend it was announced that the long-awaited White House solar panel installation was finally completed and operational. The install signifies an American desire for clean power and energy independence.
Solar energy is making a return to the White House, in the form of a fresh new solar panel installation which was completed last week.

And while this White House solar installation is certainly exciting to the ever-increasing audience of solar energy enthusiasts, some will be surprised to learn that it is not the first time a renewable energy technology was added at 1600 Pennsylvania Avenue.
CARTER GOES SOLAR ON WHITE HOUSE IN '79
In fact, June of 1979 saw 32 solar hot water panels installed on the White House by President Jimmy Carter. The solar thermal installation was a symbolic gesture of an American commitment to renewable energy and reducing dependence on foreign oil.
Solar would again be incorporated onto the White House in 2002 under the George W. Bush administration when 167 panels were added on a White House maintenance building.
AMERICAN INTEREST IN SOLAR AT ĎALL-TIME HIGH'
Solar power has been gaining popularity in GA, too.
"The completed White House solar install shows the world that American solar technologies are available, reliable and ready for installation in homes across the country," said Michael Chance, company spokesman for Solar Energy USA, a national solar design and installation company based out of Alpharetta. "Our office is experiencing an unprecedented level of interest in solar power thanks to ever-decreasing costs and improving technological advancements."
The Presidential solar power installation comes just in time for Summer, as high temperatures will have many Americans, including the tenants of the White House, seeing their highest power bills of the year.
Featured Product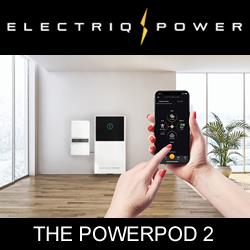 The Electriq PowerPod 2 is a fully-integrated home energy storage, management, and monitoring system powered by LFP batteries. The high-performance, cobalt-free product includes a hybrid solar/battery inverter controlled by intelligent software. The PowerPod 2 provides backup power and can self-consume or export excess power back to the grid.