The THB 631.5 million (19.4 million USD ) solar project is now under construction with commercial operation expected to begin in May 2015.
BAODING, China, May 14, 2014 -- Yingli Green Energy Holding Company Limited (NYSE: YGE) ("Yingli Green Energy" or the "Company"), the largest vertically integrated photovoltaic ("PV") module manufacturer in the world, known as "Yingli Solar," today announced that it will provide engineering, procurement and construction services to the Electricity Generating Authority of Thailand (EGAT) for a 5 MW solar power plant in Thailand as a member of a four-party Consortium ("Consortium"). The newly formed Consortium is composed of Yingli Energy (Beijing) Co., Ltd., the Company's holding subsidiary; HYDROCHINA International Engineering Co., Ltd., a subsidiary of the Power Construction Corporation of China (POWERCHINA); Hebei Electric Power Design & Research Institute; and Thailand's Wattanasuk Engineering Co., Ltd.

Under the terms of the contract, the Consortium is responsible for engineering, procurement and construction of the 5 MW Thap Sakae PV Power Plant, located in Thap Sakae, Prachuap Khiri Khan Province, in southern Thailand. The THB 631.5 million (19.4 million USD ) solar project is now under construction with commercial operation expected to begin in May 2015. The project was designed to use both crystalline silicon PV modules and thin film PV modules. Yingli Green Energy will supply 1 MW of polycrystalline silicon modules for the project in the third quarter of 2014 and the Consortium will procure the thin film modules from third party suppliers. The project is financed by EGAT.
POWERCHINA is a state-owned enterprise that provides world-leading EPC services in the development of hydropower, water works, thermal power, new energy, and transmission and distribution projects, in addition to the fields of infrastructure, equipment manufacturing, real estate and investment. EGAT is Thailand's leading state-owned power utility under the Ministry of Energy, responsible for electric power generation and transmission for the whole country as well as bulk electric energy sales.
"We are pleased to cooperate with influential companies such as POWERCHINA, a world-leading PC services provider, and Yingli Green Energy, a world-leading solar company. As demand for electricity rises in Thailand, we believe that solar PV will play an increasingly important role in our energy mix, thanks to our country's abundant solar resources," commented by Mr. Soonchai Kumnoonsate, the Governor of EGAT.
Mr. Liansheng Miao, Chairman and Chief Executive Officer of Yingli Green Energy, noted that, "This agreement marks a new milestone in Yingli's long-term strategy to move downstream as a solar energy solutions provider. We are pleased to successfully offer EPC service offerings outside of China and into South East Asia, in close collaboration with our partners. In addition to driving our long-term efforts to grow our company's downstream business operations, this agreement will help Yingli to further expand our influence and presence in the fast-growing South East Asia solar market."
About Yingli Green Energy
Yingli Green Energy Holding Company Limited (NYSE: YGE), known as "Yingli Solar," is the world's largest photovoltaic module manufacturer in terms of production capacity and shipments. Yingli Green Energy's manufacturing covers the photovoltaic value chain from ingot casting and wafering through solar cell production and module assembly. Headquartered in Baoding, China, Yingli Green Energy has more than 30 regional subsidiaries and branch offices and has distributed more than 9,000 MW PV modules to customers worldwide. For more information please visit www.yinglisolar.com and join the conversation on Facebook, Twitter and Weibo.
Featured Product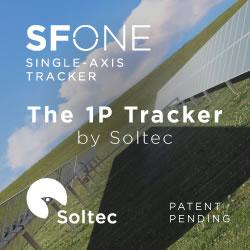 Under the slogan "engineered for greatness", the SF8 tracker aims to revolutionize the photovoltaic market with its new minimum 2x60 configuration and 4 to 6-strings. This tracker is elegantly designed while it reinforces its structure to perform in any terrain. In addition, the SF8 tracker increases the rigidity of its structure by 22% more than the previous generation of Soltec trackers, the SF7. The SF8 is specially designed for larger 72 and 78 cell modules, an increasing market trend.