ClimateMaster launches its new Trilogy 45™ Q-Mode™ variable-speed geothermal heat pump system, which provides the industry's highest efficiencies of 45 EER and further notable savings via on-demand hot water generation capabilities.
ClimateMaster announces its latest breakthrough innovation in the new Trilogy 45™ Q-Mode™ variable-speed geothermal heat pump system, which provides the industry's highest efficiencies of 45 EER and further notable savings via on-demand hot water generation capabilities. The system additionally offers convenient programming, monitoring and control for homeowners and dealers over the internet from any WiFi-enabled device.

"Providing the lowest operating cost presently on the market, the Trilogy 45 Q-Mode significantly outperforms the closest competitive variable-speed unit available," said Raj Hiremath, director of marketing at ClimateMaster. "With this latest innovation, ClimateMaster has maintained its position as the industry's leader, setting a new record by delivering the highest efficiencies recorded by AHRI at more than 45 EER in ground loop applications. Offering the lowest operating costs of any heating, cooling and hot water generation system on the market today, the Trilogy 45 Q-Mode also significantly improves comfort through superior temperature and humidity control."
In addition to the highest efficiency ratings, the Trilogy 45 Q-Mode's patent-pending Q-Mode technology reduces hot water operating costs by providing full-time, year-round domestic hot water heating at over 500-percent (5.0 COP) efficiency. According to Hiremath, the Q-Mode technology also provides no-cost cooling by automatically drawing heat from a space and into the unit's iGate Smart Tank™ hot water storage tank. The tank's polyethylene exterior further protects it from corrosion.
Featuring iGate Connect™ technology, the new Trilogy 45 Q-Mode is also the first residential geothermal heat pump system to provide dealers with complete diagnostics and operating data via any Wi-Fi enabled device over the internet. Through an online portal, dealers can access built-in measurement of all critical system operations and conditions at the past 5-faults. More than 25 unit settings can be configured from the dealer portal, including air-flows and range of unit capacity.
"The online portal notably streamlines dealers' customer support and equipment servicing, especially in allowing them to monitor and troubleshoot a unit from the comfort of their office or home," Hiremath said. "In many cases, diagnostics and adjustments through the online portal can eliminate jobsite visits, particularly in flagging system issues before they become larger problems. Also, using laptop-installed software, dealers can very easily configure Trilogy Series units in the field, and no longer need to use gauges to do so."
Hiremath additionally stated that the Trilogy 45 Q-Mode system operates exclusively with the iGate Connect (AWC99**) thermostat.
With variable-speed technology that provides an extremely wide range of heating and cooling capacities, the Trilogy 45 Q-Mode delivers its full rated capacity across its entire operating range (20◦ to 120◦F entering water temperature, or EWT), which is unique in both the geothermal and air-source heat pump industry. It can also wholly match loads as low as 30 percent of maximum, providing unsurpassed comfort and humidity control by running longer and slower, and precisely matching capacity to the heating and cooling load. When required, the system speeds up to deliver full capacity across the entire operating range.
The Trilogy 45 Q-Mode is ENERGY STAR Tier 3-qualified, and exceeds requirements for the currently uncapped 30-percent federal tax credit for geothermal heat pump systems. Available in vertical-upflow, vertical-downflow and horizontal configurations, the system is also offered in 0930 kBtuh (9k to 30k Btuh, or .75 tons to 2 tons) and 1860 kBtuh (18k to 60k Btuh, or 1.5 tons to 5 tons) capacities. The Trilogy 45 Q-Mode is exclusively available through ClimateMaster GeoElite Dealers.
ClimateMaster, Inc. is the leading manufacturer of geothermal and water-source heat pumps, which are considered to be the most energy efficient and environmentally friendly type of heating and cooling systems available on the market today. Headquartered in Oklahoma City, Ok, ClimateMaster, Inc. is a wholly owned subsidiary of LSB Industries, Inc. whose common stock is traded over the New York Stock Exchange under the symbol LXU.
For more information, visit www.climatemaster.com.
-# # #-
Featured Product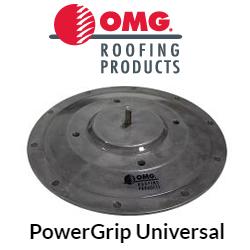 Eliminate Solar Rack Ballast and Reduce Rooftop Material Handling. PowerGrip™ Universal (PGU) is a commercial roof mount system designed to secure solar racks and other equipment to any type of commercial roofing system. PGU provides a secure connection directly to the roof deck or structural members and is designed to reduce or eliminate ballast in solar racking systems, so there's less weight on the roof and less material handling. Made of heavy-duty cast aluminum, PGU units include a base ring which is secured through the roofing cover and into the structural roof deck, and a waterproof top plate.