Innovative Solar Systems, LLC is nearing final approvals for the largest solar farm project in North Carolina to date, an 80MW project in Hope Mills, NC.
Asheville, NC May 15, 2014

The 80MW solar farm project, Innovative Solar 46, located on 450 acres of pristine farm land in Hope Mills, NC will be the largest solar project to be built in the state of North Carolina to date. Innovative Solar Systems has quickly become the largest designer and developer of large scale solar farm projects in NC and has a 2014 portfolio of projects that total almost 1GW. John Green, CEO and managing partner for ISS states that the Hope Mills, NC project is the gold standard when it comes to solar farm projects and should be on line by June 2015.
This project has been designed with state of the art 1000VDC string Inverters to minimize install costs while maximizing system efficiency and energy harvest. Panel racking options for this massive project are still under review, but it is highly likely that single axis tracking type panel racking will be utilized for maximum sunlight capture. The project will employ high level monitoring systems to assure maximum uptime of the solar plant. It has also been identified that the owner of the project may be able to obtain a $5,000,000 Grant as the project qualifies as a NC Eco Industrial Park per state requirements.
Innovative Solar Systems is excited to have a large footprint of solar farm projects in NC as the company expands into other key states for solar power generation. ISS's strategic plan is to keep expanding in the field of ground mount solar farm development while capturing a large portion of the market in North America. ISS is also exploring energy storage and management for both large scale on and off grid projects as the market rapidly changes. The world of renewable energy is ever changing and leaders like Innovative Solar Systems are embracing that change with pioneering efforts in solar farm design and build. For any questions about Innovative Solar Systems or these projects in NC please call (828)-215-9064.
Featured Product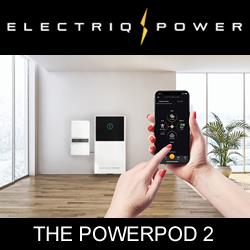 The Electriq PowerPod 2 is a fully-integrated home energy storage, management, and monitoring system powered by LFP batteries. The high-performance, cobalt-free product includes a hybrid solar/battery inverter controlled by intelligent software. The PowerPod 2 provides backup power and can self-consume or export excess power back to the grid.