Sefton Motors announced the release of the Volo One Heat Engine designed for electrical generation. The engine runs off of heat and uses any type of fuel to create the heat needed to operate. Fuel sources include wood, natural gas, propane, solar, bio mass or waste heat.
Bloomfield Hills, MI May 15, 2014 – Sefton Motors announced the release of their Volo One Engine. The Volo One Engine is an engine that runs off of heat, and is designed to produce electricity for residential backup or off grid applications.

"Today the dependence upon our utility infrastructure to provide unlimited and unfettered clean energy has become unrealistic. The Volo One Engine provides an alternative energy generation device that is based upon a truly flexible, ecologically sustainable fuel platform. The engine is externally heated by any heat source. It's the new motor for Motor City" Tim Sefton – President of Sefton Motors.
The Volo One Engine generates electricity based on a temperature difference from its hot end to its cold end. When the hot reaches a temperature of about 450F, the engine will run. There are no spark plugs, oil, air filters, or mufflers in the Volo One Engine. The Volo One Engine is based upon the Stirling Engine Cycle which was first developed in the 1800's. NASA, the auto companies, and others, have since made improvements to the technology over the last 50 years.
In comparing the Volo One Engine to a typical internal combustion engine there are some significant differences. The power density of internal combustion engine is good, it provides a large power output for its size. The Volo One Engine outputs a small amount of power for its size (engine size is 106" x 16" x 24", weighing 250 lbs). Although all heat engines have low power densities they have high energy efficiencies. Heat engines can produce more power per dollar then internal combustion engines. The Volo One Engine is targeted at electrical generation where high efficiencies are more important then size or power density.
The Volo One Engine is designed to operate at a temperature difference between 400 F and 550F. The power output of the engine is 100watt at ambient pressure and 1KW at elevated pressures (30PSI). The Volo One Engine is designed to work with all types of heat input from different fuels, wood, natural gas, propane, solar, bio-mass, waste heat, etc. Sefton Motors has developed front ends for wood and propane heat input at this time and is working on a solar front end expected sometime later this year.
One of the other synergies of the Volo One Engine is that it can be a co-generation source for energy and heating hot water or hot air. During the power cycle of the engine some of the heat used to power the piston becomes available for hot water or hot air heating. This provides a flexible energy and heating platform for many uses.
"The Volo One Engine development has been truly a unique Detroit experience. Initial seed funding came from a Kickstarter campaign and the majority of the development work has been completed at the Tech Shop facilities in Allen Park, MI. Tech Shop has allowed us to develop several iterations of the engine, tuning and making changes as needed, with minimal tooling costs. It would have been difficult to accomplish this level of development, at our low cost basis without them" says Tim Sefton, President of Sefton Motors.
The Volo One Engine retails at $1,395 and can be purchased at: www.seftonmotors.com.
Featured Product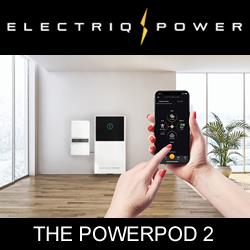 The Electriq PowerPod 2 is a fully-integrated home energy storage, management, and monitoring system powered by LFP batteries. The high-performance, cobalt-free product includes a hybrid solar/battery inverter controlled by intelligent software. The PowerPod 2 provides backup power and can self-consume or export excess power back to the grid.