In columns for Farm Industry News, LeClairRyan Senior Energy Advisor Roy Palk highlights the benefits of leveraging biomass from crop residues and animal manure as an alternative energy source.
GLEN ALLEN, Va. (5/20/14) – The time is now for U.S. farmers to fully monetize the massive amounts of biomass energy bound up in crop residues, animal manure and other forms of ag waste, advises Roy M. Palk, senior energy adviser for national law firm LeClairRyan, in a series of columns for Farm Industry News.

"Thanks to rapid technological development, as well as new regulatory carrots and sticks, today's energy companies are more eager than ever to work with farmers to capitalize on the moneymaking potential of such underused resources," writes the veteran energy attorney, who formerly served as CEO of East Kentucky Power Cooperative. "Under certain conditions, they will pay farmers significant sums for the right to turn waste crops, grasses, weeds and manure—anything that has heat content—into energy."
Palk's columns appeared in the March, April and May issues of Farm Industry News. The first column is a broad overview of the waste-to-energy trend, including descriptions of federal incentives and new technologies in play. The second provides four key reasons farmers should consider embracing waste-to-energy techniques and technologies. The third column takes a closer look at the aforementioned "sticks" now prompting more farmers to explore these possibilities—namely, increasingly stringent federal regulations restricting methane emissions and runoff from fertilizer and manure.
As Palk notes in the first column, governments are also increasingly interested in partnering with farmers on such projects. "The Department of Energy, for one, is a major provider of funding for basic and applied research in this area," he writes. "Indeed, the farm bill, signed in February, provides nearly $900 million in dedicated funding for some of the nation's most critical energy and job-creation programs, including the Rural Energy for America Program, the Bioenergy Program for Advanced Biofuels, the Biomass Crop Assistance Program, and the Community Wood Energy Program."
The U.S. Energy Information Administration predicts tremendous growth in the use of biomass for fuel and power in the next 20 years—from less than 5 quadrillion British Thermal Units (Btu) today to more than 9 quadrillion Btu by 2035, Palk writes in the second article. Farmers who lead the charge stand to maximize marginal cropland, replace lost income from declining tobacco sales, benefit from growing federal incentives, and tap new markets, he notes. "The list of buyers here is diverse and growing," he writes. "Already, multinationals such as Royal Dutch Shell, BP, DuPont and Chevron are teaming with tech firms to transform biomass into energy. Robust competition buoys prices. It means a raft of companies might compete for the right to locate biodigesters on a farmer's land. The farmer's job? Collecting on the lease."
Meanwhile, the government has created 16 agriculture-specific environmental regulations that put the onus on farms to reduce methane emissions and fertilizer and manure runoff, the attorney writes in the final piece.
Legally, the EPA now classifies combined animal feeding operations (CAFOs) as "point source" pollution. "Consequently, the roughly 8,000 permitted CAFOs in the United States are now as heavily regulated as power plants and factories," Palk notes. "Rising public concern over CAFO and other ag-related pollution means the regulatory noose is bound to tighten further."
Running afoul of the government can be one of life's worst nightmares, he adds, and unfortunately, many U.S. CAFOs are on a collision course with regulators. "The up-front investment required to launch an energy program should be weighed against the cost of staying the same," Palk writes. "New approaches represent a win-win for farmers—cutting both waste and risk while boosting the bottom line."
The articles are available at farmindustrynews.com.
About LeClairRyan
As a trusted advisor, LeClairRyan provides business counsel and client representation in corporate law and litigation. In this role, the firm applies its knowledge, insight and skill to help clients achieve their business objectives while managing and minimizing their legal risks, difficulties and expenses. With offices in California, Colorado, Connecticut, Maryland, Massachusetts, Michigan, New Jersey, New York, Pennsylvania, Virginia and Washington, D.C., the firm has approximately 350 attorneys representing a wide variety of clients throughout the nation. For more information about LeClairRyan, visit www.leclairryan.com.
Featured Product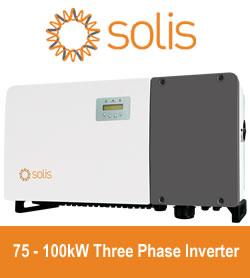 Solis75kW - 100kW series high-power string inverters are widely used in industrial and commercial rooftops. Solis's new three-phase string inverter is the first choice for industrial and commercial photovoltaics. 75-100kW three phase series string inverter have Maximum 28 strings input, support "Y" type connection in DC side. Maximum string input current 13A, support bifacial modules access.Supports anti-PID function to improve system efficiency.