The conference will be held Aug. 5-6 at The Grand Sierra Resort in Reno.
Reno, Nev. (May 21, 2014) – The fourth annual GEA Summit will bring together policy makers, utilities officials, industry leaders and geothermal professionals to discuss the opportunities and challenges facing geothermal industry growth. The conference will be held Aug. 5-6 at The Grand Sierra Resort in Reno. "The Biggest Little City in the World" is the global business center for geothermal and is home to 12 major geothermal developers/operators. Additionally, the geothermal energy plants surrounding Reno produce enough power to support the city's residential load.

"The United States is the leader in geothermal, and the Western States are trailblazers for the technology," noted GEA Executive Director Karl Gawell. "But there is much work to be done for geothermal to reach its potential. It is imperative to bring together policy makers and business leaders to examine the challenges that are holding back geothermal. GEA's goal is to facilitate constructive dialogue on some of geothermal's biggest hurdles."
The GEA Summit is co-hosted by Ormat, and supported by City of Reno; Imperial Irrigation District; Economic Development Authority of Western Nevada; Nevada Geothermal Council; Western Area Power Administration; and the Geothermal Resources Council. Confirmed speakers include Commissioner David Hochschild, California Energy Commission; Karen Edson, Vice President, Policy and Client Services, California ISO; Barry Dong, Manager Geothermal/Biomass, Los Angeles Department of Water and Power (LADWP); Carl Stills, Energy Manager, Imperial Irrigation District, Keith Martin, Partner, Chadboune Parke LLP; Randy Keller, Director of Development, Transmission & Land Assets, CalEnergy; and Bob Sullivan, Vice President of Business Development, Ormat, among others. U.S. Senate Majority Leader Harry Reid (D-NV) will provide a video greeting.
At the Summit, speakers and break-out sessions will address a range of topics critical to the industry today, including the future of the RPS policies; new U.S. codes and standards for geothermal energy; leasing and permitting improvements; the outlook for new renewable power procurements in the Western states; achieving the potential of the Salton Sea; next steps to move geothermal forward in Nevada; and the outlook for federal and state legislation to support geothermal growth.
During the Summit, the Geothermal Energy Association will announce the winners of its GEA Honors awards program. Geothermal business leaders can submit nominations now. The deadline for GEA Honors submissions is July 7. To submit a nomination, visit http://geo-energy.org/GEAHonors.aspx.
GEA Honors categories include:
· Technological Advancement (GEA members only): awarded to an individual or company that has pioneered new ideas or innovative technology in the field of geothermal energy.
· Economic Development (GEA members only): awarded to an individual or company that has contributed to the development of local, regional or national markets through geothermal systems.
· Environmental Stewardship (industry wide): awarded to an individual or company that has promoted environmental sustainability through the use of geothermal systems.
· Special Recognition (industry wide): the GEA will additionally be accepting nominations for special recognition of an individual or company that has outstanding achievements in the geothermal energy industry.
Year-end data shows that Nevada has proven itself as one of the most business-friendly environments for the geothermal industry, with the number of developing projects (45) more than double that of California (25). U.S. additions in Nevada, as well as neighbors Utah, California, and New Mexico kept the industry on the map domestically in 2013, and future growth looks promising. The geothermal resource base is still largely untapped. With new initiatives in Nevada, California and Oregon moving to recognize the values of geothermal power, GEA is optimistic that state policies could spark another period of growth in geothermal power over the next decade.
Some myths have surfaced that geothermal power is reaching its potential capacity in states like California and Nevada. These states still have a significant amount of known untapped potential that could be used domestically or exported to surrounding states. Overall, GEA estimates about 50% of California's known resources, 60% of Nevada's, and 60% of Utah's are still untapped.
For more information on the National Geothermal Summit, please visit http://www.geo-energy.org/nationalgeothermalsummit/Main.aspx. For information about Summit sponsorships, please contact Kathy Kent Schott at kathy@geo-energy.org. To schedule an interview or request press credentials, please contact Shawna McGregor, The Rosen Group, 917 971 7852 or shawna@rosengrouppr.com.
About the Geothermal Energy Association:
The Geothermal Energy Association (GEA) is a trade association comprised of U.S. companies that support the expanded use of geothermal energy and are developing geothermal resources worldwide for electrical power generation and direct-heat uses. GEA advocates for public policies that will promote the development and utilization of geothermal resources, provides a forum for the industry to discuss issues and problems, encourages research and development to improve geothermal technologies, presents industry views to governmental organizations, provides assistance for the export of geothermal goods and services, compiles statistical data about the geothermal industry, and conducts education and outreach projects. For more information, please visit www.geo-energy.org. Subscribe to GEA's newsletter here. Follow GEA on Twitter. Become a fan on Facebook.
Featured Product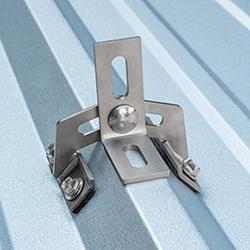 QuickBOLT Low Profile QuickBOLT with Microflashing™ is the industry's affordable, UL Certified Asphalt Shingle mounting system. The Microflashing™ is compressed by the collar on the bolt to create a water-tight seal. With an installation time of less than one minute, the Low Profile QuickBOLT allows installers to complete more jobs.