Pika Energy announces that it has hired Jeff Pemberton as its Director of Dealer Relationships and Sales, where he will take the lead on developing a dealer network offering Pika's innovative renewable energy systems for residential use.
Westbrook, ME – May 22, 2014 – Pika Energy announces that it has hired Jeff Pemberton as its Director of Dealer Relationships and Sales, where he will take the lead on developing a dealer network offering Pika's innovative renewable energy systems. Most recently, Jeff served as the Director of Partnerships for Suncap Financial (now NRG Residential Solar Solutions), where he created the fastest-growing and largest dealer network in residential solar financing. In two short years, Suncap Financial became the third-largest residential solar leasing company in the US, with over 300 dealers averaging almost 400 solar system sales per month. Prior to Suncap, Jeff was the Regional Manager for Standard Renewable Energy (SRE), a Boulder, CO-based residential and small commercial renewable energy contractor providing energy audits, insulation and weatherization services, solar photovoltaics, solar thermal, and high-efficiency HVAC, where he grew sales to an average of over $1MM per month.
"We are very excited to welcome Jeff to Pika Energy," says Pika president and co-founder Ben Polito. "Pika is dedicated to helping more families and businesses make their own electricity with reliable, cost-effective wind turbines, and Jeff's proven track record of success in solar energy is a great model for us. Growing up in a farm family, he understands the needs of rural customers in the US heartland, and how Pika's wind-solar hybrid energy systems can help customers make the most of their natural resources."
"Having led the charge of one of Colorado's largest renewable energy contractors, I have a real passion for helping local community solar companies expand and improve their business through financing programs and expanded product offerings," said Pemberton.
Pemberton is excited to represent Pika's products, including the Pika Hybrid system with patented REbus DC Microgrid technology that captures the two most available renewable energy sources – wind and solar – into one integrated system.
"One of the problems with solar is when sun goes down, you need to rely on grid-tied electricity unless you have enough excess solar energy banked," says Pemberton. "Pika solves that problem with our Hybrid product. For a home or small business with a quality wind resource, the Pika Hybrid system may dramatically outperform a like-sized solar system, providing the best dual-sourced distributed renewable energy solution on the market. The Pika Hybrid system is also ideal for remote homes and cabins where the wind/solar mix is more reliable than either alone."
About Pika Energy
Pika Energy develops high-performance, cost-effective wind turbines for the residential market to help families cut their electric bills and reduce their environmental impact. Pika Energy's wind turbine runs on REbus™, an intelligent energy networking technology that makes it easy to build flexible, plug-and-play clean energy systems. Its X3001 Hybrid Inverter supports grid connectivity for all renewable energy sources, including Pika turbines as well as solar arrays, enabling families to use generated power on site or export it to the grid. The company was founded in 2010, and its mission is to build distributed clean energy systems that give customers faster payback on their investment. For more information, please visit: www.pika-energy.com.
Featured Product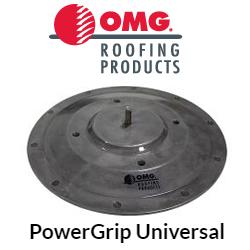 PowerGrip Plus Roof Mount System, a watertight structural attachment system used to secure ballasted solar racks and other equipment to roofs covered with thermoplastic (TPO and PVC) membranes. PowerGrip Plus is designed with wind performance in mind and offers ultimate tensile strength of 2,000 lbf. and ultimate shear strength of 1,075 lbf. Properly installed PowerGrip Plus units reduce rack movement and remaining watertight. PowerGrip Plus units are easy to install, saving both time and labor when compared to alternative options. A wide membrane skirt promotes easy welding in place, and the 15/8 diameter and 1/2 inch tall mount provides an optimal perch for securing brackets or struts. The exposed 1 inch tall and 3/8 inch diameter bolt and mounting stand are made from corrosion-resistant stainless steel and aluminum alloy for superior long-term performance.