Fourth generation battery-agnostic technology platform and industry-leading integration expertise driving advanced grid-scale and behind-the-meter energy storage project wins
Greensmith, a leader in grid-scale energy storage technologies announced today it is on track to successfully integrate an additional 4 new battery types in 2014, bringing the company's total since inception to 12 using its battery-agnostic technology platform, now in its fourth generation. With over 23mW of energy storage capacity to be deployed in 2014, Greensmith continues its rapid growth by serving an expanding list of strategic customers and channel partners looking to take full advantage of the company's proven technologies and application expertise, including frequency regulation, grid stability/deferral, renewable integration and commercial/industrial functionality.

Refined over many years of development, innovation and real-world deployment experience, Greensmith's software platform enables the rapid, economic integration of both current and future battery technologies, always selected and configured according to the objectives and requirements of the target application. Although the company continues to develop and deliver turn-key energy storage systems at scale, a number of customers and partners are choosing to license Greensmith's software and integration technology a-la-carte.
"From the very start, Greensmith believed that the potential for energy storage lay beyond "batteries-in-a-box", and that robust layers of software, integration and optimization were critical to capturing its full value", said John Jung, Greensmith CEO. "It was also clear that a variety of battery alternatives, suitable for different application needs, would be available over time and therefore need to be easily integrated into a single, resilient technology architecture. So we built and advanced our battery-agnostic technology through multiple cycles of product development and delivery. We're quite pleased to be on pace to successfully integrate our 12th battery type by the end of 2014 – and while it's become fashionable to proclaim battery-agnosticism in the marketplace, it's quite another thing to have actually executed and delivered the goods."
About Greensmith Energy Management Systems
Established in 2008, Greensmith is a recognized leader in grid-scale, energy storage technologies and services featuring its fourth generation technology platform that powers multiple grid applications on both sides of the meter. The company has developed and delivered over 30 energy storage system projects to utilities, power developers, microgrids, commercial/industrials, solar and EV charging firms. Privately held and headquartered in Bethesda, Maryland, Greensmith operates across the US and has also deployed systems in Canada and Australia. Currently the company is investing in expanding its team and operations in response to increased market demand and customer engagement. The company has also started licensing its technology to other participants in the energy storage market and also established strategic partnerships with EPCs and financiers to support projects greater than 20mW.
For more information, please visit: http://www.greensmithenergy.com.
Featured Product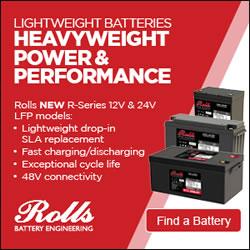 Designed for true drop-in replacement, Rolls new R-Series 12V & 24V LFP lithium models offer a maintenance-free lightweight flooded and SLA alternative in four popular BCI case sizes with fast charge/discharge capability. Rolls custom built-in BMS provides all necessary operating protections for safe operation and seamless integration for deep cycle replacement in 12V, 24V or 48V systems.