Martifer Solar and Citelum have entered into a strategic partnership to provide the municipality of Izamal, Mexico with clean energy ---- The Girasol project will make Izamal the first municipality in Mexico to have a solar PV installation generating energy to supply power for a public LED lighting project ---- The project will consist of a 1.46 MW solar PV plant and a complete renovation of existing street lights and illumination around municipal buildings to more efficient LED lighting technology
Martifer Solar, a subsidiary of Martifer SGPS, has entered into a strategic partnership with Citelum, a global leader in public lighting and sustainable urban development. The companies will work together to provide the municipality of Izamal with clean energy through the combined power of solar photovoltaic energy and LED lighting technology. The project, named Girasol, will be located in Izamal, a municipality within the state of Yucatán, Mexico.

Girasol has been developed through a 15-year contract which exists between Citelum and the municipality of Izamal. Citelum has extensive experience in Mexico and on a global basis with similar urban projects. The company is known to apply innovative and unique financial structures for projects throughout Latin America. Martifer Solar will serve as the EPC (engineering, procurement and construction) contractor for the solar power plant portion of the Girasol project. With its impressive track record of the recently inaugurated 39 MW Aura Solar power plant, Martifer Solar is able to contribute its expertise from the construction of Mexico's largest PV plant.
Álvaro del Rio Garcia, Country Manager of Mexico for Martifer Solar, stated, "Thanks to Citelum's trust in Martifer Solar, we have a new opportunity to build in Mexico and to maintain our leadership in this market. Martifer Solar continues along its path as a first-mover in the Mexican market by bringing solar PV energy and the company's demonstrated expertise to the Girasol project."
The solar PV portion of Girasol will provide the municipality of Izamal with a 1.46 MW ground-mounted installation. The PV plant will be assembled with 4,860 polycrystalline modules in a fixed position. It will be built on land of approximately 10,000 m2, which has been donated by the municipality of Izamal. With a production capacity of 2.1 GWh/year, the plant will avoid 955 tons of CO2 emissions each year and provide the equivalent to the energy consumption of 4,595 inhabitants on an annual basis.
The Girasol project is unique in that the power generation from the 1.46 MW solar PV installation will supply energy to power the comprehensive LED lighting portion of the project. Citelum will ensure the complete renovation of the existing street lights to more efficient LED technology, the upgraded illumination around the municipal buildings and video mapping to promote tourism to Izamal. This project will make Izamal the first municipality in Mexico to have a solar PV system generating energy to supply a public LED lighting project.
Antonio Martínez, Senior Finance Director of Citelum in Mexico, said, "Citelum is driven by a long-standing culture of research and innovation in sustainable lighting solutions, with a footprint spanning more than 20 countries in the world. We are excited to bring this innovative business concept to the municipality of Izamal, together with Martifer Solar, and look forward to setting a trend in the combination of LED lighting and solar PV technologies in Mexico."
The energy secretary of Mexico, Pedro Joaquin Coldwell, recently announced the ambitious target of 33% of the country's installed electricity capacity to come from renewable sources by 2018. The Girasol project will not only contribute to this goal, but also will provide a sustainable model for other municipalities with high solar irradiation in Mexico to follow in the future.
ABOUT MARTIFER SOLAR
Martifer Solar is a leading fully-integrated player in the global photovoltaic market focused on Development, EPC and O&M Service.
The company is based in Portugal and has presence in Europe (Spain, Italy, Greece, Belgium, France, Czech Republic, Slovakia, United Kingdom, Germany, Romania and Ukraine), North and Latin America (United States, Canada, Mexico, El Salvador, Chile, Brazil and Ecuador), Africa (Cape Verde, Mozambique and South Africa) and Asia (India, United Arab Emirates, Singapore and Japan).
In 2013, Martifer Solar's revenues reached 274.7 million euros and, to date, the company has implemented more than 500 MW of photovoltaic solar energy worldwide.
Martifer Solar is part of the Martifer Group, a multinational industrial group with around 3,000 employees focused on metallic constructions and solar energy. Martifer SGPS, SA is the holding company of the Group and has been listed on Euronext Lisbon since June 2007.
LEARN MORE AT WWW.MARTIFERSOLAR.COM
ABOUT CITELUM
Citelum, a French group, is a global leader in outdoor lighting maintenance, with installations in 20 countries, management of more than 100 cities, more than 20 years of experience and revenue greater than 250 million Euros.
A historic pioneer of urban lighting, Citelum has a presence on four continents and maintains more than 2,200,000 lighting installations around the world.
Citelum maintains the street lighting of cities like Washington (US), Mexico City (Mexico), Paris (France), Prague (Czech Republic), Venice (Italy), Ho Chi Minh (Vietnam), Brasilia (Brazil), Kuala Lumpur (Malaysia), Shanghai and Peking (China), Rabat (Morocco).
LEARN MORE AT WWW.CITELUM.COM.MX
Featured Product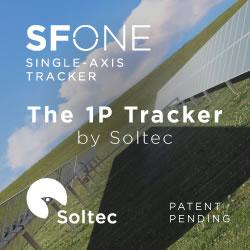 SFOne is the 1P single-axis tracker by Soltec. This tracker combines the mechanical simplicity with the extraordinary expertise of Soltec for more than 18 years. Specially designed for larger 72 an 78 cell modules, this tracker is self-powered thanks to its dedicated module, which results into a lower cost-operational power supply. The SFOne has a 5% less piles than standard competitor, what reduces a 75% the labor time.