CWIEME Berlin seminar to reveal how the latest wireless power transfer technology could drive the automotive industry towards a greener and more convenient future.
Imagine a world where you could charge your electric car while waiting for the traffic lights to change – or even as you drive down a special 'charging' lane. It's not too distant a future, according to Dr. Faical Turki, head of R&D at Paul Vahle GmbH and a speaker at this year's CWIEME Berlin exhibition.

The key lies in wireless or inductive power transfer, which Dr. Turki will be discussing on the second day of the show's CWIEME Central seminar programme.
"The simplest way to transfer energy wirelessly is to generate a magnetic field between two coils – a primary coil in the power source such as a garage charging point and a secondary one on an electric car. When the two coils move into range, the process begins automatically," says Dr. Turki.
Without a charging cable, there is no danger of electrocution and motorists would never have to worry about forgetting to charge their electric car again. Wireless charging could also facilitate more frequent charging – power points could be installed on or under the surface of roads throughout an urban area – decreasing the size of the battery required and the weight of the car.
Breaking boundaries
Wireless charging is already widely used for small consumer products such as electric toothbrushes and mobile phones, while both static and dynamic power transfer have achieved some success in the industrial sector for the transit of goods and people. The Transrapid railway now operating in Shanghai is a case in point. However, this is the first time that the technology has been applied to private vehicles.
"When the Transrapid rail project began in Germany a decade ago, the costs involved were so high as to make it unviable. But now that semiconductors are becoming cheaper and transistors are a fraction of the price they once were, wireless power transfer is becoming a real possibility for the automotive industry," says Dr. Turki.
"Of course, there are still some safeguards that we will need to implement, such as motion sensors to shut down the magnetic field when living beings are nearby," he says. (High magnetic fields can cause damage to pacemakers).
Nevertheless, Dr. Turki believes that Paul Vahle – in conjunction with German automotive supplier Hella – is close to making wireless charging for electric cars a reality – and what's more, harnessing electric cars' potential as renewable energy storage units.
"Green power from solar panels and wind turbines is becoming increasingly available and yet it is difficult to store. A great solution to this, however, would be to transfer energy wirelessly into cars and then, when needed, feed energy from cars into houses or into the grid. The German government is behind us and we already have a prototype," he explains.
Top talent
Dr. Faical Turki is a power electronics specialist with more than 14 years' experience in the research and development of industrial electronics. Starting with his work in the Institute for Electrical Machines, Traction and Drives in Braunschweig, he looks back on over 10 years of research in the field of wireless power supply. In his role at Paul Vahle GmbH he is head of the research and development of contactless power and data transfer systems for electric vehicles, trams and industrial applications. His research includes polyphased inductive high power supply, bidirectional approaches, magnetic design, high frequency resonant converter topologies and data transfer on magnetically coupled power transfer circuits.
Dr. Turki received the Dipl.-Ing. degree in electrical engineering and the Ph.D. degree in electrical engineering from the Technical University of Braunschweig, Germany in 2002 and 2007, respectively. He is member of VDE and IEEE.
"We are thrilled to have Dr. Turki as part of our seminar programme for CWIEME Berlin 2014," says Chloe Theobald, content manager for CWIEME Berlin. "He has been at the forefront of the industry for many years and has some fascinating and valuable insights to share with visitors to the show."
Dr. Turki will be presenting the topic of 'wireless power transfer: coil design, performance and induction charging options for increased mobility' at CWIEME Central on Wednesday 25th June, 15:20-16:00.
CWIEME Central seminars are held in English and free for all CWIEME Berlin visitors to attend.
CWIEME Berlin – the world's largest event for coil winding, insulation and electrical manufacturing
Dates: 24th-26th June 2014
Venue: Messe Berlin, Messedamm 22, 14055 Berlin, Germany
Opening times: Tuesday and Wednesday 09:00-18:00, Thursday 09:00-16:00
Admission: Visit www.coilwindingexpo.com/berlin to register for your free visitor's entry pass today. An on-site registration fee of €40 will apply for those who have not already registered online.
Featured Product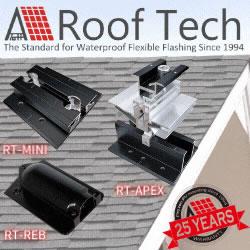 Now Roof Tech brings you the most innovative, watertight mounting systems ever developed for solar photovoltaic systems. Designed and manufactured exclusively for us by Japan's longtime leader in roofing technologies, Roof Tech products are 100% code-compliant and offer fast, simple installation and huge savings on shipping costs due to their compact, rail-less design. Learn more about our full line of versatile PV mounting solutions now available for residential installations. The next generation in rooftop solar mounting solutions."