In wake of cyber-hacking charges against China's military, upcoming Commerce Department decision presents key opportunity to address China's illegal solar subsidies
HILLSBORO, Ore., May 28, 2014 – The domestic solar manufacturing industry awaits the first ruling from the Department of Commerce in new trade cases against China and Taiwan, when the department makes a preliminary decision next week about the level of illegal Chinese government subsidies benefiting its solar producers.

On June 3, Commerce will announce a preliminary determination on numerous subsidy allegations submitted by SolarWorld in its trade petition filed Dec. 31. The petition alleges that Chinese solar producers such as Canadian Solar, Suntech Power, Trina Solar and Yingli Solar benefit from an array of government assistance, including cash grants, discounted loans and loan guarantees, free land and utilities, and heavily discounted polysilicon, solar glass and aluminum extrusions.
This ruling follows an extraordinary indictment by the U.S. Department of Justice of five members of the Chinese People's Liberation Army on May 19, charging that the Chinese government used cyber-espionage to target SolarWorld and five other U.S. companies and a labor union. The indictments accuse the Chinese military of stealing thousands of email documents containing corporate secrets, including research-and-development and financial data as well as proprietary attorney-client-privileged legal submissions made in the company's first cases against China's solar industry.
Next week's ruling, while preliminary, has great importance for the domestic solar manufacturing industry, represented by the Coalition for American Solar Manufacturing (CASM). Many of CASM's founding manufacturers now are out of business or struggling to restructure, their disbanded workforces to be counted among thousands of U.S. jobs lost to unfair trade practices. Most recently, in March, Sharp Solar was forced to shut down its manufacturing facility in Tennessee. CASM represents nearly 250 companies employing nearly 21,000 Americans.
"We look forward to the Commerce Department's ruling, which could be a very important step toward returning fair competition to the solar market," said Mukesh Dulani, U.S. president of SolarWorld, who leads nearly 700 employees in Oregon. "We have said countless times that we can compete with any producer in the world, but we should not be forced to compete with the Chinese government. China's pervasive subsidies distort the marketplace and have harmed the U.S. solar manufacturing industry for years. Enough is enough."
The 2012 investigation of China's solar subsidies resulted in duties of 14 percent to 15 percent on all Chinese companies. Chinese producers largely evaded those duties by switching to solar photovoltaic cells fully or partially manufactured in Taiwan or other countries. The new cases would address Chinese evasion of the initial trade cases by applying the duties to Chinese solar panels made with Chinese wafers or other inputs, even if the cells are made in a third country. Commerce is also scheduled to issue a preliminary ruling on anti-dumping duties against China and Taiwan on July 25.
SolarWorld REAL VALUE: SolarWorld manufactures and sells solar power solutions and in doing so contributes to a cleaner energy supply worldwide. As the largest solar producer in the United States and Europe, SolarWorld employs about 3,200 people and carries out production in Hillsboro, Ore., and Freiberg and Arnstadt, Germany. From the raw material silicon to solar wafers, cells and panels, SolarWorld manages all stages of production ‒ including its own research and development. The company maintains high social standards at all locations across the globe and is committed to resource- and energy-efficient production. Headquartered in Bonn, Germany, SolarWorld was founded in 1998 and has been publically traded on the stock market since 1999. For more information, visit www.solarworld-usa.com.
Featured Product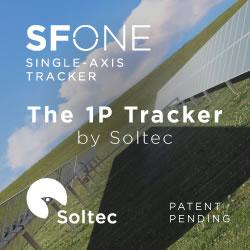 SFOne is the 1P single-axis tracker by Soltec. This tracker combines the mechanical simplicity with the extraordinary expertise of Soltec for more than 18 years. Specially designed for larger 72 an 78 cell modules, this tracker is self-powered thanks to its dedicated module, which results into a lower cost-operational power supply. The SFOne has a 5% less piles than standard competitor, what reduces a 75% the labor time.