The 8th Energy Storage World Forum in 2015 will take place in Rome and will include The 3rd Microgrid Forum and The 2nd Residential Energy Storage Forum.
This 3 events in one location will save you time and money and will feature over 25 Utilities/TSOs/DSOs and End Users such as TERNA, E.ON, UK POWER NETWORKS, EDF etc.

Subscribe to our newsletter to receive up to date industry news, free white papers and latest speakers http://goo.gl/C2Mkb and download the programme from our website http://www.energystorageforum.com/ or see an introduction here http://goo.gl/9R9XsJ
For Speaking, Sponsorship enquiries call:
Europe: +44 208 432 0886,
Asia: +65 6243 0050 or
email us: emily@energystorageforum.com
Featured Product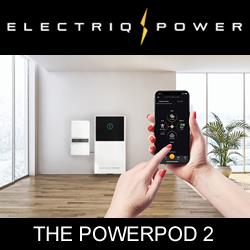 The Electriq PowerPod 2 is a fully-integrated home energy storage, management, and monitoring system powered by LFP batteries. The high-performance, cobalt-free product includes a hybrid solar/battery inverter controlled by intelligent software. The PowerPod 2 provides backup power and can self-consume or export excess power back to the grid.