The leading exhibition for the solar industry kicks off in Munich
Munich, June 4, 2014 – The leading international exhibition for the solar industry opens its gates today. Around 1,100 exhibitors are set to present their products, solutions and services at Intersolar Europe over the three days. Approximately 50,000 visitors are expected to make the journey to this year's exhibition, which covers 90,000 square meters of exhibition space in eight halls and an outdoor exhibition area. This year, the electrical energy storage (ees), the international exhibition for energy storage, is being hosted by Intersolar Europe for the first time. The accompanying Intersolar Europe Conference, taking place from June 2–4 at ICM – Internationales Congress Center München, offers a deeper insight into the topics covered at the exhibition thanks to presentations and workshops held by around 300 speakers.

This year, once again, the international solar industry will convene at Intersolar Europe at Messe München. Exhibitors from the areas of photovoltaics, PV production technologies as well as the new area of focus of renewable heating team up with the electrical energy storage (ees) to offer a unique range of products and services for the energy transition in the electricity and heating markets. Boasting exhibitors from around 50 countries, eight halls, the partner exhibitions AUTOMATICA and MAINTAIN as well as the Intersolar Europe Conference, this year's exhibition once again provides visitors with a comprehensive strategy and information forum.
Solar industry discusses solutions for the energy transition
The objectives set both by the EU and the German government are ambitious: According to the European Commission, Europe's CO2 emissions should be reduced by 40% by 2030 compared with the 1990 level, while the German government's national climate protection strategy strives to achieve this goal as early as 2020. Nuclear energy, gas and renewable energy in particular could be used to achieve this target. A recent study by Prognos AG, a financial research institute and consultancy, forecasts that the costs for new nuclear power stations will remain stable in the long term, while solar power and wind become increasingly cost-efficient. It concludes that over a 30-year operating period, a system based on renewable sources of energy would be around 20% cheaper than a system based on nuclear power. While politicians have understood that there needs to be more investment into renewable energy in order to drive forward the energy transition and provide a viable alternative to nuclear power, they are risking losing the trust of citizens and the industry. Both privately and commercially used photovoltaic (PV) installations need clear framework conditions ensuring that the installation remains profitable for its users. The threat of on-site consumption in particular is being heavily criticized. Experts are therefore justified in calling for politicians to credibly promote the energy transition. This also includes introducing new guidelines and incentive systems for the heating market, which is responsible for around 50% of energy consumption.
Intersolar Europe's inaugural event, taking place today at 10:00am at Messe München, is dedicated to the energy transition. The session features Claudia Kemfert, Head of the Energy, Transportation and Environment Department, and Frank Peter, Senior Energy Industry Project Manager at Prognos AG, who will answer the question of how the the energy transition can be implemented with locally available renewable sources of energy.
The political situation is just one of numerous solar industry-related topics in the spotlight at Intersolar Europe. The new area of focus of renewable heating looks into solutions for successfully achieving the energy transition, paying particular attention to trends and complete solutions for renewable heating.
This year's accompanying program to Intersolar Europe
For the seventh year running, the Intersolar AWARD is paying tribute to the industry's innovative strength in the categories of Photovoltaics and Solar Projects in Europe. It is accompanied this year for the first time by the electrical energy storage (ees) AWARD ceremony. In total, this year saw close to 100 companies apply for the renowned solar industry innovation prize. The award is presented in an official ceremony at 4:30pm on June 4, taking place at Intersolar Europe's Innovation Exchange in hall A3, booth A3.550.
The Innovation Exchange (booth A3.550) provides a platform for exhibitors to present their innovations in 15-minute presentations. One of the highlights is set to be the track on Solar Storage Systems – Experience and Outlook by the German Solar Industry Association (BSW), starting at 12.15pm on June 5. Workshops, special exhibits and the Forum on Renewable Heating complement the Intersolar Europe 2014 program. The Photovoltaics on Industrial and Commercial Roofs workshop (hall A3, room A31/A32) at 2.30pm on June 4 sheds light on solutions for on-site consumption for industry and commerce, using best practice examples to show attendees the PV options that are available to them. Taking place at 10:00am on June 6, the workshop entitled Successful Sales Strategies for Solar Storage Systems is particularly aimed at tradesmen that are either new to the market or responsible for selling and installing solar storage systems. The PV and E-Mobility special exhibit taking place in the outdoor exhibition area next to hall C4 is hosted by ARAUSOL – Arau Technik GmbH, ClickCon GmbH & Co.KG, ELENIO GmbH, PEUGEOT Deutschland GmbH, SolarWorld AG and Tesla Motors GmbH. Here, visitors are invited to test drive electric cars and learn about PV carports, charging stations and how electric cars work.
The three-day Forum on Renewable Heating features discussions and expert presentations on important renewable heating topics. This year's focus is on combined solutions for heat generation, legal conditions and options for heating system upgrades in particular. The Forum on Renewable Heating in hall C4 of the exhibition will be opened on June 4 at 10:30am by Hans-Josef Fell, President of the Energy Watch Group, Germany, in a presentation entitled "One hundred percent renewable heating – also a necessity for independence from Russian energy sources."
The Intersolar Europe Conference
The Intersolar Europe Conference has been running at the ICM – Internationales Congress Center München since June 2. The conference picks up and consolidates the topics of the exhibition, providing a platform for some 300 speakers and 2,000 attendees to discuss the latest trends, state-of-the-art applications and the future of international markets. Today marks the last conference day, which will cover energy storage systems, large-scale PV power stations, industrial and commercial PV roof-top installations, recycling options for solar panels and energy supply solutions for rural areas.
Intersolar Europe 2014 takes place from June 4–6 at Messe München.
Further information on Intersolar Europe can be found at www.intersolar.de/en
Partners of Intersolar Europe
Intersolar Europe is supported by the leading solar industry associations: the German Solar Industry Association (BSW-Solar) as an exclusive partner, th
Featured Product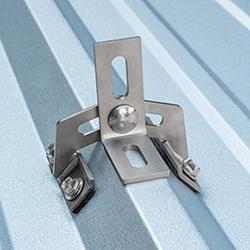 Explore new lines of income for your solar installation business with QuickBOLT's Stone Coated Steel roof mounts designed in partnership with metal roof manufacturers themselves. These SCS roof mounts work on all metal tile profiles and will help you bring in money you're missing out on. By not driving into the roofing material, QuickBOLT's Stone Coated Steel roof hooks maintain the integrity of the roof. Install with ease and confidence knowing your roof is protected against the harsh elements that these hooks are designed for.