ISO/IEC 17065 Allows Federal and International Recognition
Clifton Park NY - Signifying its successful completion of a thorough organizational assessment, the Small Wind Certification Council (SWCC) has obtained a 2-year renewal of its accreditation by American Association for Laboratory Accreditation (A2LA) to certify small and medium-sized wind turbine models, now according to the new ISO/IEC 17065 international standard for product certification bodies.

The renewal and update follows SWCC's recent expansion of scope providing certification of power and acoustic performance for medium wind turbines - defined as newly manufactured, electricity-producing wind turbines with a swept area greater than 200 square meters (about 50 kW) - in accordance with IEC 61400-12-1 (Power) and IEC 61400-11 (Acoustics).
SWCC first obtained ISO/IEC Guide 65:1996 accreditation from A2LA in 2012 to certify small wind turbines to AWEA Standard 9.1-2009. Guide 65 has since been updated to ISO/IEC 17065, and the SWCC certification system has been updated to reflect changes to this standard.
Accreditation to ISO/IEC 17065 allows the universal recognition of SWCC turbine certifications worldwide, while ensuring that certification activities are conducted impartially, systematically and in a uniform manner. The accreditation confirms that resulting product certifications are consistent with international product certification standards and based on objective testing and evaluation.
"We are pleased that A2LA has recognized our quality system and re-confirmed SWCC's technical competence for our full scope and updated quality management system's operation as an accredited certification body serving the distributed wind market," noted SWCC Executive Director Larry Sherwood.
SWCC's renewed A2LA accreditation certificate, valid through June 30, 2016, and updated accreditation scope are available at www.a2la.org/scopepdf/3299-01.pdf.
In Related News: The U.S. Department of Energy has issued a 4-page guidance memorandum on "Quality Assurance through Wind Turbine Certification Requirements to 17 federal agencies recommending that public funds be provided only for certified wind turbines and that local planning officials, utilities, banks, state energy offices and federal agencies adopt certification requirements as a means of protection against untested technologies, unverified claims about turbine performance, and equipment failures. As a follow-up, the Distributed Wind Energy Association has updated its recommended certification criteria specifying that certification reports should be publicly released by organizations accredited to ISO/IEC 17065.
About SWCC: SWCC certifies wind turbine models that meet or exceed the requirements of specified Standards as an independent confirmation that wind turbine designs are tested and evaluated according to industry standards for performance and safety. Designed to promote consumer confidence and mainstream acceptance of small and medium wind technology, SWCC certification standardizes North American reporting turbine energy and sound performance. Certificates, ratings, and summary reports for SWCC certified turbine models, including tabulated power curves, acoustic data, and tower design requirements, along with a complete list of SWCC pending applicant turbine models, are available at www.smallwindcertification.org/for-consumer. SWCC updates its certified turbines tables and application status table on its website as milestones are reached. Visit www.smallwindcertification.org or call 518-213-9440 for more information on SWCC certification.
Featured Product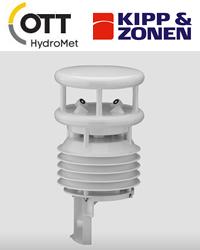 The WS50PV is an affordable, compact all-in-one weather sensor measuring the most critical parameters for commercial and industrial PV monitoring. Equipped with a suite of professional measuring sensors, the WS50PV can handle air temperature, relative humidity, barometric pressure, wind direction, and wind speed in one efficient housing to simplify mounting. Add an external temperature or rain sensor to the single-wire digital Modbus interface for fast and easy integration. The WS50PV is the tool you need for unlocking solar energy performance.