Detroit based, Greenlancer.com, the award winning solar engineering company, announced today that it has signed a master service agreement with C-TEC Solar, to supply permit drawings for the residential solar systems being installed by C-TEC in Connecticut and throughout the New England region.
Ever embracing new products and technology, the design and engineering of solar systems is a fast evolving business, and with industry growth along comes new growth strategies to even the playing field. Fortunately, there are ways for smaller businesses to compete with the larger, more established firms on economy of scale. One way is making sure your permit drawings, BOS component lists, and interconnection applications are done right. This vital link in the chain can save time, money, and grief. "When you read about efforts to cut 'soft-cost', this is exactly what they mean", added C-TEC project manager Josh Ferguson. "For start-ups and veteran's alike, the engineering phase in solar design has frequently been a bottle neck. In the race to cut costs and turn around time, we turn to Greenlancer.com because the economics of solar energy are changing. As hardware costs have declined, the industry has turned its attention on reducing 'soft costs'. This is the area where the GreenLancer.com technology excels.

"After doing our homework, we partnered withGreenLancer.com because of their unique online engineering and design services allow us to scale up to meet increasing demand for permit packages and interconnection applications, and still get the work done right the first time". It's also nice to know that our field staff can do solar site surveys and upload them from their phones and tablets.
Visitors to C-TEC Solar can connect with solar specialists, who will help them sign up for the best solar power plan available in their region. The C-TEC Solar Specialists take into account factors such as location, energy usage, size of home and available tax incentives to propose accurate, competitive quotes. With detailed financial assessments, they show homeowners how much money they can save on their energy bills by going solar. GreenLancer.com in partnership with C-TEC, will provide electrical and permit drawings for all their clients in New England who sign up for solar systems.
GreenLancer.com CEO, Michael Sharber, said the C-TEC contract is one of the largest master service agreement his company has signed and will require Greenlancer.com to engage its cutting edge technology and its national network of engineers (aka "Greenlancers") to provide fast, easy and affordable engineering permits to C-TEC.
"C-TEC Solar has an outstanding reputation and an impressive track record of providing state-of-the-art solar systems and we're proud to be working with them as they expand their expertise to the U.S. market," Sharber said. "We're confident we can meet their exacting standards and deliver the cost-effective solutions they need. We look forward to expanding our relationship with them.
The capabilities and experience that companies like C-TEC Solar and GreenLancer.com offer residential customers helps them to get their projects designed, approved and installed quickly, professionally and at minimal cost. GreenLancer.com provides engineering support to clients throughout the U.S. and internationally. The award winning Detroit-based company has completed over 70Mw of projects in 32 states, six countries and four continents.
C-TEC Solar, located in Simsbury, is Connecticut's largest, locally owned clean technology company specializing in photovoltaic and solar thermal hot water systems for any size commercial or residential project, or budget. To learn more, contact a C-TEC Solar Specialist at 855-76-SOLAR (855-767-6527) or visit www.ctecsolar.com for more information.
###
Featured Product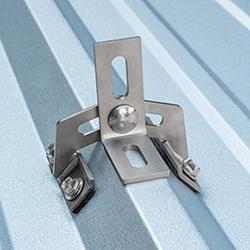 Explore new lines of income for your solar installation business with QuickBOLT's Stone Coated Steel roof mounts designed in partnership with metal roof manufacturers themselves. These SCS roof mounts work on all metal tile profiles and will help you bring in money you're missing out on. By not driving into the roofing material, QuickBOLT's Stone Coated Steel roof hooks maintain the integrity of the roof. Install with ease and confidence knowing your roof is protected against the harsh elements that these hooks are designed for.