Organizations Agree to a Multi-Year Collaboration to Advance Solar Industry
SAN FRANCISCO, June 9, 2014 (Virtual Press Office) -- Intersolar North America, the most well attended industry exhibition and conference in North America for solar professionals to exchange information and develop business opportunities, announced today it has formed a new, long-term agreement with valued partner California Solar Energy Industries Association (CALSEIA). Together, the partners will work to strengthen supportive solar policies in California, and further the state's solar market through joint campaigns and programs.

Intersolar North America is celebrating its seventh year as the premier venue for the solar business in California and the entire United States. The success of the exhibition and conference can be attributed, in part, to the high quality programs developed by Intersolar and its industry partners. CALSEIA's expertise, as one of the nation's oldest solar energy associations located in the heart of the largest solar U.S. market, has played a critical role. With more than 4.1 MW, California ranks first in the country in installed solar capacity, and is home to more than 1,670 solar companies, employing 43,700 solar professionals.
"Intersolar North America is California's premier solar conference and trade show. It is an excellent opportunity to stay abreast of market developments and trends while making important business connections and networking. From the workshops to the networking events, Intersolar North America is the place to be for the U.S. solar industry."
Bernadette Del Chiaro, Executive Director
California Solar Energy Industries Association (CALSEIA)
"Intersolar supports the North American solar industry yesterday, today and tomorrow," said Markus Elsasser, CEO of Solar Promotion International GmbH, an organizer of Intersolar North America. "We began our event in California with the primary goal of providing the U.S. solar industry with an exhibition platform that would further the market by bringing together key national and international players, and showcase the latest products and technology innovations. We developed educational workshops, conference sessions and networking events to connect industry advocates. Our commitment to hosting Intersolar North America in the U.S.'s largest solar market, and our continued collaboration with CALSEIA and co-organizer SEMI speaks to that mission."
The partners will expand the scope of their collaboration this year and introduce several new programs at the 2014 show. CALSEIA and Intersolar will host the first-ever Contractor Day, a day-long workshop that will provide installation information to keep established solar PV and thermal contractors ahead of the curve and educate new market participants in the basics of solar. Additionally, for the first time ever Intersolar will present the Intersolar Champion of Change AWARD to an outstanding personality committed to development of renewable energy at the national or international level. The Champion of Change AWARD is hosted by Intersolar, in close partnership with CALSEIA. All attendees are invited to attend the AWARD Ceremony on Tuesday, July 8 at 3 PM at the Innovation & Application Stage on Level 3 of Moscone West.
Intersolar and CALSEIA have historically collaborated on portions of the Intersolar North America conference agenda, special exhibition programs and networking events, including the popular Solar Summerfest. Solar Summerfest, hosted by CALSEIA and Intersolar, is the premiere networking event for approximately 2,000 attendees that include Intersolar North America exhibitors, visitors and conference attendees. Intersolar proudly supports the Solar Summerfest, a 100 percent fundraiser benefiting CALSEIA's activities to strengthen the Californian solar industry. Tickets for the Solar Summerfest are available for purchase online.
"Our partnership with CALSEIA is emblematic of our commitment to the U.S. solar industry. We are deeply committed to serving the industry with an event that shares insights and connects professionals. We also are committed to providing the financial and policy support to bring more projects online," added Klaus Seilnacht, CEO of FMMI International GmbH, the other organizer of Intersolar North America. "We're pleased to foster our partnership further to accomplish these goals."
About Intersolar North America
With events spanning four continents, Intersolar is the world's leading exhibition series for the solar industry and its partners. It unites people and companies from around the world with the aim of
increasing the share of solar power in our energy supply.
Since its establishment in 2008, Intersolar North America has become the most attended solar event and the premier networking platform for the North American solar industry. Co-located with SEMICON West, it takes place annually at the Moscone Center in San Francisco, California, the United States' pioneering solar market.
The event's exhibition and conference both focus on the areas of photovoltaics, PV production
technologies, energy storage and solar thermal technologies. Since being founded, Intersolar has
become the most important industry platform for manufacturers, suppliers, distributors, service
providers and partners of the solar industry.
A total of 576 exhibitors and 17,163 trade visitors participated in Intersolar North America in 2013. The conference featured more than 50 sessions with more than 200 speakers and approximately 1,600 attendees.
With more than 20 years of experience, Intersolar has the unique ability to bring together members of the solar industry from across the world's most influential markets. Intersolar exhibitions and
conferences are held in Munich, San Francisco, Mumbai, Beijing and Sao Paulo. Starting in 2014, these global events will be complemented by the Intersolar Summits, which will take place in emerging and growing markets worldwide.
For more information on Intersolar North America, please visit: www.intersolar.us
Organizers: Intersolar North America is organized by Solar Promotion International GmbH, Pforzheim and Freiburg Management and Marketing International GmbH (FMMI).
Featured Product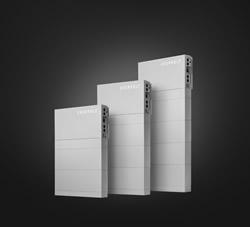 Offer homeowners best-in-class solar and energy storage in one money-saving bundle. Panasonic's new EverVolt™ Series modules come in 350W, 360W, 370W & 380W models and work seamlessly with their EverVolt battery storage - all warrantied by one of America's most trusted brands.