Patent Granted to Northeast Tennessee Company for Revolutionary "Green" Hybrid Electric Battery
(Johnson City, TN USA) June 10, 2014 – HighWater Innovations is announcing that their revolutionary low aspect battery design has been granted a United States Patent. The Hybrid Electric Vehicle is potentially an important part of the solution to the problem of green house gas production and reducing the dependence on oil imports.

The GO Battery (for Geometrically Optimized Battery) advanced acid battery design, features a compact 3-inch diameter, low-aspect ratio, with a cooling core down the center. The design allows for extremely low internal cell resistance and significantly more power efficiency. Prototypes are nearing 1000 Watts/kilogram and a clear development path is in place for upwards of 1500 Watts/kilogram. At these levels, the design will be competitive with current nickel and lithium chemistries at a substantially lower cost. In addition, the battery is over 98% recyclable making it the greenest technology available.
"The key to success for meaningful growth in the Hybrid Vehicle market is in reducing the cost of the vehicle's battery pack to make the vehicle more affordable and offer a payback on the battery based on the actual fuel savings. At $3.50 per gallon gas prices, the battery is expected to payback it's cost in a little over two years – well within the life of the vehicle. No other battery technology can do this." – Michael Gilchrist HighWater Innovations
The Inventor, Dr. George Brilmyer said, "We are extremely pleased about the patent being granted as we believe it validates our work. Our goal is to make HEV's more affordable and therefore more plentiful to begin to make a positive impact on our environment."
HighWater's Business model is to develop technology and then either license or sell the technology or join with a partner for further development. All inquiries for details related to GOBATTERY performance or licensing/partnerships should be directed to Michael Gilchrist of HighWater Innovations.
Contact:
Michael Gilchrist
mgilchrist@highwaterinnovations.com
2111 highland Falls Court
Johnson City, TN 37615
423-794-8900
###
Featured Product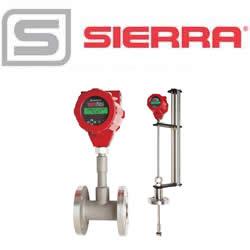 Sierra was the first to introduce a combination volumetric vortex and multivariable mass flow meter in 1997. Today, Sierra's completely redesigned InnovaMass® iSeries™ 240i/241i builds on two decades of success measuring five process variables for gas, liquid and steam with one connection. Now, with the latest hyper-fast microprocessors, robust software applications, field diagnostic and adjustment capability, and a new state-of-the-art flow calibration facility, Sierra's vortex iSeries delivers precision, performance, and application flexibility never before possible.