The sun sets on the world's leading exhibition for the solar industry in Munich
Munich, June 6, 2014 – The leading international exhibition for the solar industry, Intersolar Europe, ends today. Around 1,100 exhibitors from 48 countries showcased products and services along the entire solar industry supply chain over three days. In addition to photovoltaics (PV) and PV production technologies, 250 exhibitors at the electrical energy storage (ees) exhibition and Intersolar Europe presented innovative solutions for energy storage, one of the greatest challenges facing the energy transition in the electricity market. Intersolar Europe is also increasingly supporting the energy transition in the heating market, this year expanding its area of solar thermal technologies to include renewable heating systems such as wood-chip and pellet heating systems, mini combined heat and power plants or cogeneration systems, fuel cell heating systems and heat pumps. The political conditions of the energy transition, the industry's market developments and new business models were discussed at the Intersolar Europe Conference as well as at the exhibition. Around 1,300 attendees enjoyed the conference and its side events at ICM – Internationales Congress Center München from June 2–4.

From June 4–6, 44,000 visitors flocked to Messe München, where Intersolar Europe and the electrical energy storage (ees) exhibition were taking place simultaneously. Covering eight halls and the outdoor exhibition area, the range of exhibits attracted visitors from 145 different countries this year, representing a further increase in the percentage of international guests. The range of exhibiting companies from 48 nations was a reflection of the international solar industry, with Germany, China, Austria, Italy and France boasting the most exhibitors this year. Many international delegations created a truly international atmosphere and included investors from Argentina, Paraguay, Uruguay, Saudi Arabia, Morocco and India. The nine country pavilions, among them Canada, South Korea and Taiwan, also contributed to the international flair. All in all, this makes Intersolar Europe the international strategy and information forum for solar energy.
Pioneering spirit in international photovoltaics markets
According to the European Photovoltaic Industry Association's (EPIA) Global Market Outlook 2014–2018, which was published at Intersolar Europe, the newly installed PV output reached 38.4 gigawatts (GW) last year, which is 28% more than in 2012. Markets outside of Europe are increasingly spearheading this development. According to the report, this trend towards more international markets is set to continue and strengthen over the next few years – the mean scenario states that annual new installations will rise from more than 40 GW in 2014 to around 55 GW in 2018. This will also lead to photovoltaics being increasingly regarded as an important pillar of future energy supply and an investment opportunity. At Intersolar Europe, internationalization was palpable. Companies are doing more and more business outside of Europe, for example in China, South East Asia, Japan and the USA, where markets are showing particularly strong growth.
Intelligent energy supply solutions
This year once again, Intersolar Europe provided an international information forum for many innovations. Systems are becoming an increasingly important topic among exhibitors. Many companies presented on-site consumption solutions for family homes and commercial buildings, which can be combined with energy storage systems to gain more independence from rising energy prices. In the future, intelligent energy management systems will be able to efficiently connect storage systems in order to make excess electricity available for longer. The spotlight is also increasingly shining on combinations with other technologies – combinations of PV, solar thermal technologies, wood-chip and pellet heating systems, mini combined heat and power plants or cogeneration systems, fuel cell heating systems and heat pumps open up a host of options for driving forward the energy transition in the heating market. The new area of focus of renewable heating at Intersolar Europe and the Forum on Renewable Heating picked up on this trend.
New business models for solar energy
Dwindling system prices mean that it is already possible to generate solar power in Germany for between 12 and 15 euro cents per kilowatt hour (kWh). That's why on-site consumption is becoming more and more interesting for companies as well as private householders and is overshadowing grid feed-in. New financing and business models, such as rental or leasing contracts as well as delivery contracts, are emerging in the industry. The Intersolar Europe Conference, which ended on June 4, dedicated one of its own sessions to the topic, while the German Solar Industry Association (BSW-Solar), supported by Intersolar Europe, presented the Investorenleitfaden Photovoltaik (Photovoltaics Investor Guidelines).
Focus on the German energy transition
Even though solar markets are becoming more and more international, Germany still has a strong influence as the country that pioneered the energy transition. Thanks to its storage system incentive program, which is unique in the world, Germany still holds a pioneering role in the field of solar storage systems. However, at the same time, the current debate on the amendment to the Renewable Energy Sources Act (EEG) means that the German government is risking losing the investments made in the past few years as well as the trust of its citizens and its international status as a role model. Industry experts, amongst them the German Solar Industry Association, called for reliable framework conditions for the energy transition to replace the uncertainty caused by discussing a levy on on-site consumption. In addition, leading solar companies at the Executive Panel held at the Intersolar Europe Conference demanded a new supply structure consisting of renewable energies as a basis and flexible gas-fired power plants and new storage technologies as support systems. According to the panelists, the country needs a clear policy for adapting the entire system instead of making changes to the existing system here and there. Prof. Dr. Claudia Kemfert of the German Institute for Economic Research (DIW) and Hans-Josef Fell, President of the Energy Watch Group, urged the German government to give the energy transition in the heating market a kick-start, not least in order to reduce dependency on foreign energy imports. Renewable heating is considered to be an important pillar, supported by the Europe-wide introduction of the energy label for heating systems in 2015.
Intersolar Europe 2015 takes place from June 10–12 at Messe München.
Further information on Intersolar Europe can be found atwww.intersolar.de/en
Partners of Intersolar Europe
Intersolar Europe is supported by the leading solar industry associations: the German Solar Industry Association (BSW-Solar) as an exclusive partner, the German Solar Energy Society (DGS), the European Solar Thermal Industry Federation (ESTIF), the International Solar Energy Society (ISES), SEMI (Europe), and the platform for photovoltaic production equipment within the German Engineering Association (VDMA-PV). With the support of the European Photovoltaic Industry Association (EPIA).
About Intersolar
With events spanning four continents, Intersolar is the world's leading exhibition series for the solar industry and its partners. It unites people and companies from around the world with the aim of increasing the share of solar power in our energy supply.
Intersolar Europe is the world's largest exhibition for the solar industry and its partners. It takes place annually at the Messe München exhibition center in Munich, Germany.
The event's exhibition and conference both focus on the areas of photovoltaics, PV production technologies, energy storage and solar thermal technologies/renewable heating technologies. Since being founded, Intersolar has become the most important industry platform for manufacturers, suppliers, distributors, service providers and partners of the solar industry.
In 2013, 1,292 international exhibitors and around 47,000 trade visitors attended Intersolar Europe. More than 400 speakers and over 2,000 attendees visited the conference.
With more than 20 years of experience, Intersolar has the unique ability to bring together members of the solar industry from across the world's most influential markets. Intersolar exhibitions and conferences are held in Munich, San Francisco, Mumbai, Beijing and São Paulo. Starting in 2014, these global events will be complemented by the Intersolar Summits, which will take place in emerging and growing markets worldwide.
This year for the first time, the electrical energy storage (ees), international exhibition for batteries, energy storage and innovative production, will take place in conjunction with Intersolar Europe. The ees is covering the entire value chain of innovative battery and energy storage technologies.
For more information on Intersolar Europe, please visit: www.intersolar.de/en
Intersolar Europe is organized by Solar Promotion GmbH, Pforzheim and Freiburg Wirtschaft Touristik und Messe GmbH & Co. KG (FWTM).
Featured Product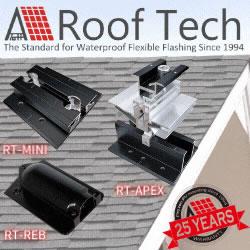 Now Roof Tech brings you the most innovative, watertight mounting systems ever developed for solar photovoltaic systems. Designed and manufactured exclusively for us by Japan's longtime leader in roofing technologies, Roof Tech products are 100% code-compliant and offer fast, simple installation and huge savings on shipping costs due to their compact, rail-less design. Learn more about our full line of versatile PV mounting solutions now available for residential installations. The next generation in rooftop solar mounting solutions."