New power milestone once again puts SolarWorld ahead of high-volume global competitors
HILLSBORO, Ore., June 10, 2014 – SolarWorld, the largest U.S. solar manufacturer for more than 35 years, is producing 280-watt-peak, 60-cell Sunmodule solar panels at unprecedented commercial volumes. This achievement again demonstrates SolarWorld's solar-industry technology leadership and represents an important step along SolarWorld's fast-escalating course toward manufacturing a 300-watt, 60-cell panel.

Volume production of American-made 280-watt modules stems from investments of tens of millions of dollars in technological and production innovations in the company's Oregon factory, even amid the manufacturing industry's ongoing distress.
"Today's announcement is yet another example of how SolarWorld uses advanced technology and superior-quality materials to maximize power and efficiency in our panels," said Mukesh Dulani, U.S. president of SolarWorld. "Our strength lies not just in our ability to innovate in the lab but also to translate those breakthroughs into commercial-scale production on the factory floor."
Beginning in the second half of 2014, SolarWorld expects 280-watt solar panels to represent the majority of production at its U.S. manufacturing headquarters.
The 280-watt mono-crystalline Sunmodule taps advanced light-capture and energy-conversion technologies to achieve industry-leading power density in a 60-cell format. The panel is about 10 percent more efficient than industry-standard 250-watt 60-cell panels, enabling installation savings of about 10 cents a watt in labor and balance-of-systems costs. In fact, SolarWorld's 280-watt 60-cell solar panel offers nearly the same power as competitors' 72-cell panels, which typically range from 280 to 300 watts peak, but with a 15 percent savings in system footprint.
The company's ability to reliably deliver high-efficiency, American-made solar products has resulted in supply agreements with many of the nation's leading solar distributors and installers.
"In this technological world we live in, our customers place value on having access to the highest-performing solar panels on the market," said Jim Allen, vice president of sales and communications for Future Energy Savers, a SolarWorld Platinum Installer based in Elk Grove, Calif. "We love that SolarWorld is always taking its product to the next level. That performance advantage, along with SolarWorld's American manufacturing, is a powerful combination."
The 280-watt Sunmodule solar panel comes with the same high quality, performance and reliability that customers have come to expect from SolarWorld, including a 25-year linear performance guarantee and 10-year product workmanship warranty, both consumer protections that the company pioneered. Like other wattage-class SolarWorld products, the new solar panels feature high-efficiency cells, a versatile frame to accommodate both top-down and bottom-up mounting, eight possible grounding locations and extended cable lengths for easier installation. 
SolarWorld REAL VALUE: SolarWorld manufactures and sells solar power solutions and in doing so contributes to a cleaner energy supply worldwide. As the largest solar producer in the United States and Europe, SolarWorld employs about 3,200 people and carries out production in Hillsboro, Ore., and Freiberg and Arnstadt, Germany. From the raw material silicon to solar wafers, cells and panels, SolarWorld manages all stages of production ‒ including its own research and development. The company maintains high social standards at all locations across the globe and is committed to resource- and energy-efficient production. Headquartered in Bonn, Germany, SolarWorld was founded in 1998 and has been publicly traded on the stock market since 1999. For more information, visit www.solarworld-usa.com.
Featured Product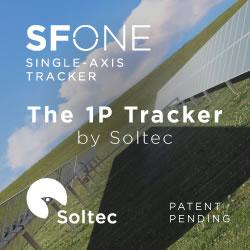 SFOne is the 1P single-axis tracker by Soltec. This tracker combines the mechanical simplicity with the extraordinary expertise of Soltec for more than 18 years. Specially designed for larger 72 an 78 cell modules, this tracker is self-powered thanks to its dedicated module, which results into a lower cost-operational power supply. The SFOne has a 5% less piles than standard competitor, what reduces a 75% the labor time.