Companies agree to explore plan to construct and operate the world's largest solar power project located on agricultural land on island near Nagasaki, Japan
Photovolt Development Partners GmbH, Kyocera Corporation, Kyudenko Corporation, ORIX Corporation, and Mizuho Bank, Ltd. today announced that they have reached a basic agreement to investigate the possibility of operating a 430-megawatt (MW) solar power project on the island of Ukujima (Sasebo City, Nagasaki Pref., Japan). The project would be the largest in the world to be implemented on agricultural land*1.

Photovolt Development Partners began planning the solar power project in April 2013 with the aim of helping to contribute to environmental protection and economic revitalization on the remote island. Approximately 150 billion yen (approx. $1.47 billion*2) in investment is planned for the project, with a goal of starting construction in FY2016 (April 2015 to March 2016). The project envisions using a combined land area of roughly 6.3 million square meters — the equivalent area of 134 professional baseball stadiums — at multiple locations, covering roughly 25 percent of the small island of Ukujima, part of the Goto Islands off the coast of Nagasaki, Japan. The project plans to utilize approximately 1,720,000 of Kyocera's high-output multi-crystalline silicon solar modules to create a 430MW system that would generate an estimated 500,000MWh per year, the equivalent power annually used by roughly 138,800 typical households*3, offsetting roughly 252,200 tons*4 of CO2 each year. By constructing a 60-kilometer undersea cable between Ukujima and the island of Kyushu, all power produced from the project will be sold to the local utility company, Kyushu Electric Power Co., Inc., based on the national feed-in tariff program for renewable energy.
Under the plan, negotiations over land use would be carried out by Ukujima Mega Solar Park Service Corporation (hereafter "UMSPS"), which would lease agricultural land or deserted arable land on the island from respective owners. A special purpose company (TeraSol G.K.) would then sublease the land from UMSPS to construct and operate the solar power systems. In this project, the solar modules would be constructed on stilts, allowing the land to be concurrently utilized for both power generation and agriculture. In addition, based on agricultural grant funding from TeraSol, UMSPS will support livestock farmers by commissioning the production of oat grass and other pasture grasses, thus contributing to regional development on the island through both the island's main industry of agriculture and the power generation business.
Agreeing with the benefits of this project, Kyocera, Kyudenko, ORIX and Mizuho Bank aim to achieve an environmentally friendly business model using solar power, while contributing to the development of the island's agricultural base. Along with Photovolt Development Partners, the five companies have reached a basic agreement to explore the project. Under the current plan, the Kyocera Group will supply 100 percent of the modules to be installed, and in cooperation with Kyudenko, will be responsible for the construction, maintenance and management of the solar power systems; while Mizuho Bank will be in charge of planning and coordinating the projects' financing. Additionally, Kyocera, Kyudenko and ORIX are considering making capital investments into TeraSol.
The companies involved will work with the Nagasaki prefectural government, the city of Sasebo and authorities in the community to investigate the most appropriate business model and ensure that environment protection is considered in the selection of sites and construction of the solar power systems.
About KYOCERA
Kyocera Corporation (NYSE:KYO)(TOKYO:6971) (http://global.kyocera.com/), the parent and global headquarters of the Kyocera Group, was founded in 1959 as a producer of fine ceramics (also known as "advanced ceramics"). By combining these engineered materials with metals and integrating them with other technologies, Kyocera has become a leading supplier of solar power generating systems, mobile phones, printers, copiers, electronic components, semiconductor packages, cutting tools and industrial ceramics. During the year ended March 31, 2014, the company's net sales totaled 1.45 trillion yen (approx. USD14.1 billion). The company is ranked #531 on Forbes magazine's 2014 "Global 2000" listing of the world's largest publicly traded companies, and was named as the world's No.1 manufacturer of advanced ceramics in the latest ranking by Ceramic Industry magazine.
Featured Product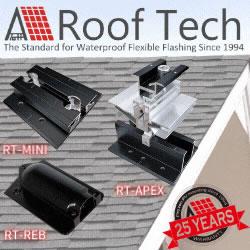 Now Roof Tech brings you the most innovative, watertight mounting systems ever developed for solar photovoltaic systems. Designed and manufactured exclusively for us by Japan's longtime leader in roofing technologies, Roof Tech products are 100% code-compliant and offer fast, simple installation and huge savings on shipping costs due to their compact, rail-less design. Learn more about our full line of versatile PV mounting solutions now available for residential installations. The next generation in rooftop solar mounting solutions."