PV America highlights Boston's solar efforts and is more regionally focused at this year's event.
Washington, DC, June 3, 2014 – PV America (PVA), powered by Solar Energy Industries Association (SEIA) and Solar Electric Power Association (SEPA), and the only event in the United States designed specifically for photovoltaic-focused professionals, will bring together more than 3,000 industry players in just five weeks in Boston, MA, June 23-25, 2014.

The strategic decision to host this meeting in the New England market is due to the region's ever growing solar industry. CleanTechnica's research shows that four of the top ten states producing solar power (per capita) hail from the New England region. Gaining more momentum for the region is Massachusetts which was ranked the #1 state in the U.S. for solar power in 2013, according to SolarPowerRocks.com.
Steady growth for the solar industry in Massachusetts means steady growth for solar related jobs in the state as well. One of the partners for PVA, the Massachusetts Clean Energy Center, shows that clean energy jobs grew by nearly 12% from 2012 to 2013. The growth in clean energy jobs has resulted in Massachusetts setting the stage for the rest of the U.S. to play catch-up as they lead the nation in clean energy economy.
The Northeast region is well represented at PVA regarding speakers as well. Massachusetts Governor Deval Patrick will welcome the crowd at Monday's General Session and offer up highlights of solar success within the region. Other speakers featured during the event hail from the Northeast region as well, including Master Speaker Richard Kauffman, Chairman of the NYSERDA Board and Chair of Governor Cuomo's Energy Finance Sub-Cabinet and John Macomber, Senior Lecturer at Harvard Business School. Educational sessions will also focus on learning objectives relevant to the region throughout the entire program.
PVA has also partnered with many New England-based organizations to elevate the importance of this growing solar sector in the U.S. Event partners include: Interstate Renewable Energy Council (IREC), Massachusetts Clean Energy Center (MassCEC), New England Women in Energy and Environment (NEWIEE), North American Board of Certified Energy Practitioners (NABCEP), Northeast Energy and Commerce Association (NECA), Northeast Sustainable Energy Association (NESEA), Solar Energy Business Association of New England (SEBANE), Solar Energy International (SEI), Women in Solar Energy, and Young Professionals in Energy (YPE).
To learn more about the event or participate as an attendee, exhibitor, or sponsor, please go to pvamericaexpo.com.
###
About PV America 2014
PV America is presented by Solar Energy Industries Association (SEIA)® and Solar Electric Power Association (SEPA)®, whose combined efforts have created a world-class, regionally focused and vertically integrated event for installers, designers and suppliers of photovoltaic (PV) technology and services. Unlike other PV conferences, all proceeds support the expansion of the U.S. solar energy market through SEIA's and SEPA's year-round research and education activities, as well as SEIA's® advocacy efforts.
About SEIA®
Established in 1974, the Solar Energy Industries Association is the national trade association of the U.S. solar energy industry. Through advocacy and education, SEIA and its 1,000 member companies are building a strong solar industry to power America. As the voice of the industry, SEIA works to make solar a mainstream and significant energy source by expanding markets, removing market barriers, strengthening the industry and educating the public on the benefits of solar energy. www.seia.org
About SEPA
The Solar Electric Power Association (SEPA) is an educational non-profit dedicated to helping utilities integrate solar power into their energy portfolios for the benefit of the utility, its customers and the public good. With more than 1,000 utility and solar industry members, SEPA provides unbiased utility solar market intelligence, up-to-date information about technologies and business models, and peer-to-peer interaction. From hosting national events to utility strategies, SEPA helps utilities make smart solar decisions. For more information, visit www.solarelectricpower.org.
Featured Product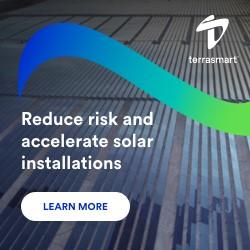 The first and only single axis tracker that allows you to turn unusable land into valuable assets. Built tough for reliable performance, TerraTrak will maximize energy output and returns conquering the most challenging sites. Employ PV where you never thought possible through durable mechanics and intelligent control technology.